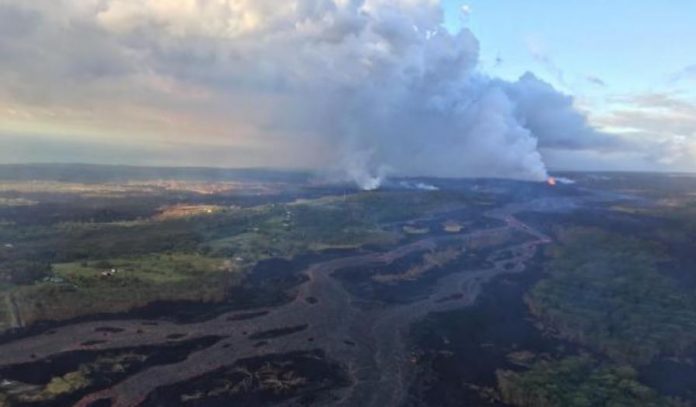 June 7 (UPI) — Hawai'i County Civil Defense officials estimated hundreds more homes have been destroyed this week as lava from Kilauea Volcano crept through neighborhoods to reach Kapoho Bay.
The latest official figures said 159 homes had been lost since the volcano began erupting in early May, but Hawai'i County Civil Defense Administrator Talmadge Magno said fresh flow through Kapoho Beach Lots and Vacationland destroyed 350 and 140 homes, respectively. Among those destroyed Tuesday was the home of Hawaii County Mayor Harry Kim.
"It's a slow-moving flow. Nothing stops it," Magno told Hawaii News Now. "The volcano is going strong."
As of Wednesday, only Fissure 8 — of 22 fissures — was producing a "very active" and "large channelized flow" into Kapoho Bay, civil defense said. The lava has extended nearly a mile into the bay's waters, creating a hazardous steam filled with tiny glass particles called "laze."
The U.S. Geological Survey's Hawaiian Volcano Observatory said Fissure 8 was spewing lava up to 180 feet into the air on Hawai'i Island, also known as the Big Island. It is producing Pepe's hair, lightweight volcanic glass that can irritate skin and eyes and be dangerous to the lungs.
On Tuesday, Gov. David Ige issued a new order providing relief for evacuees and those whose homes had been damaged.