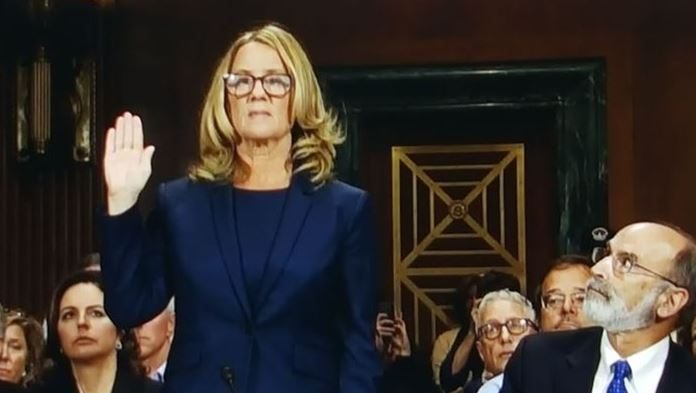 Sept. 27 (UPI) — Palo Alto University professor Christine Blasey Ford testified Thursday to the Senate judiciary committee how a "visibly drunk" Brett Kavanaugh, now nominated to the U.S. Supreme Court, attacked her when they were in high school.
Appearing publicly for the first time since her sexual allegations against Kavanaugh came to light, Ford reiterated her account of the summer night in 1982 when she, Kavanaugh and at least four others were at a house near Bethesda, Md.
Speaking before senators and prosecutor Rachel Mitchell, her voice at times breaking, Ford said Kavanaugh and his friend Mark Judge "were visibly drunk" and attacked her in one of the bedrooms at the house. Ford said Kavanaugh and Judge were "extremely inebriated … and the other people at the party were not."
"I was pushed onto the bed and Brett got on top of me," she said, adding she believed he was going to rape her.
"I tried to yell for help. When I did, Brett put his hand over my mouth to stop me from screaming. It was hard for me to breathe, and I thought that Brett was accidentally going to kill me."
She said she's never forgotten Kavanaugh and Judge's "uproarious laughter … and their having fun at my expense."
Ford said Judge jumped onto the bed, knocking her and Kavanaugh over, at which point she ran from the room and locked herself in a bathroom across the hall. After hearing Kavanaugh and Judge go back downstairs, Ford said she left the house.
The Senate committee enlisted Mitchell, a prosecutor in Maricopa County, Ariz., to question Ford and Kavanaugh at the hearing. Mitchell has worked with the Maricopa County Attorney's Office since 1993 and led the office's Special Victims Division before going on leave to work with the Senate, The Arizona Republic reported. She is a Republican, but the newspaper said she is "widely known as apolitical."
Mitchell's questioning largely focused on Ford's path toward coming forward and her preparations ahead of the committee hearing. Ford said she decided it was her "civic duty" to raise her concerns about Kavanaugh to lawmakers, even though she and her family have been harassed and threatened since.
Although Ford said she cannot remember certain aspects of the 1982 gathering, when Sen. Dianne Feinstein, D-Calif., asked her if she could be mistaking Kavanaugh for another individual, Ford said, "absolutely not."
She said the attack left her with lifelong problems, including anxiety, claustrophobia and symptoms similar to post-traumatic stress disorder.
The hearing is streaming live on the Senate judiciary website.
Ahead of the hearing, Ford's legal team released the results of a polygraph test to the judiciary committee. A letter accompanying the results indicated Ford's responses to questions about the alleged attack were "not indicative of deception."
Ford's attorneys also submitted to the committee the sworn and signed declarations from four people Ford said she told about the assault.
Kavanaugh's denial
The circuit court judge has issued multiple statements and gave an interview to Fox News earlier this week categorically denying any misconduct with Ford and the two other women who have accused him of inappropriate behavior.
In his prepared opening remarks, Kavanaugh called sexual assault "horrific" and "morally wrong."
He called the scandal "grotesque" and an "obvious character assassination." Kavanaugh acknowledged drinking beer with friends during his school days, but says, "I never did anything remotely resembling what Dr. Ford describes."
President Donald Trump has supported Kavanaugh on multiple occasions, during a Wednesday news conference calling all accusations "false to me."
"This is one of the highest quality people that I've ever met. And everybody that knows him says the same thing. And these are all false to me," Trump said. "These are false accusations in certain cases, and certain cases even the media agrees with that. I can only say that what they've done to this man is incredible."
The hearing
Thursday's hearing began with opening remarks from committee Chairman Sen. Chuck Grassley, R-Iowa, and ranking member Feinstein.
Ford presented her prepared remarks first and then each member of the committee has five minutes to ask her questions. Kavanaugh will then follow with remarks and questions from the senators.
Though at least two other women have accused Kavanaugh of sexual misconduct, neither are testifying at Thursday's hearing. Grassley said in his opening remarks that his staff contacted the two women's respective attorneys multiple times, but those lawyers did not make their clients available for interviews.