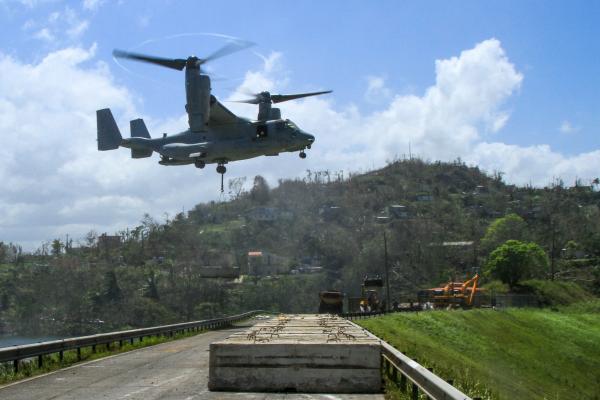 Oct. 9 (UPI) — Now weeks after Hurricane Maria unleashed havoc on Puerto Rico, nearly 90 percent of the U.S. territory still has no electricity Monday, officials said.
One-hundred percent of the island lost power in Maria's immediate aftermath and relief aid has been slow to arrive on the Caribbean island.
"We have over 12,000, almost 13,000, [Department of Defense] personnel in Puerto Rico, over 4,000 Puerto Rico National Guard and EMACs [state partners through the Emergency Management assistance Compact] together," Puerto Rico Gov. Roberto Rosello said Sunday in San Juan. "There's an expectation of 3,000 more to come to Puerto Rico in the next couple of weeks as well."
The island was impacted by three hurricanes last month. The last, Maria, caused the most destruction.
A government status report on recovery operations indicated Monday that electrical power is still only available to less than 12 percent of residents. Only 28 percent of cellphone towers are operational and one-quarter of supermarkets on the island remain closed. Nearly 7,000 people are in shelters.
A U.S. Navy hospital ship, the USNS Comfort, is stationed in the port of Aguadilla on the northwest coast of the island, with 250 hospital beds and the capacity to serve 1,000 patients.
Rosello said the Puerto Rico National Guard is distributing food and water,and acknowledged complaints that vital commodities have not been properly allocated and delivered.
"Water and food delivery keeps being a top priority, making sure the people of Puerto Rico have the elements important to survive through this crisis," he said, noting that secondary priorities include power grid restoration and maintenance of generators in hospitals.
Future federal relief efforts are in a $29 billion supplemental aid package that will be up for a vote this week in the U.S. House of Representatives. The funding request covers relief for the areas adjoining the Gulf of Mexico, Florida, Puerto Rico and the U.S. Virgin Islands. It includes $12.8 billion in disaster relief for the Federal Emergency Management Agency, $16 billion for the National Flood Insurance Program and $576 million to fight wildfires.
In a three-page letter to congressional leaders, Rosello asked for $4 billion more in aid "to meet the immediate emergency needs of Puerto Rico." That funding includes relief to prevent "a massive liquidity crisis," a reference to cash shortfalls of local governments on the island.
President Donald Trump previously signed a $15 billion aid package for relief efforts after Hurricane Harvey affected Texas and Louisiana in August.