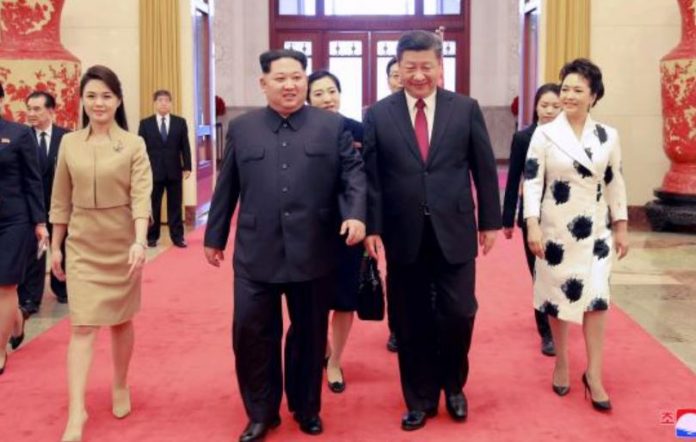 SEOUL, March 29 (UPI) — Ri Sol-ju, wife of North Korean leader Kim Jong Un, has become something of a beauty icon in China, following her surprise visit to Beijing earlier this week.
South China Morning Post reported Wednesday that Chinese online communities admired Ri's looks and compared her to China's first lady Peng Liyuan, who was photographed with her.
An internet user commented on Weibo, China's equivalent of Twitter, that Ri had a "powerful presence" and looked more beautiful than Peng, although Peng was dressed more fashionably.
Another user said the North Korean first lady appears as though she would be better at diplomacy than Kim Jong Un's sister who visited South Korea last month, heading the North's high-level delegation to the Pyeongchang Winter Olympic Games.
Some even said Ri looked as "pretty as Song He-kyo," a South Korean actress popular for her beautiful looks in China.
SCMP says Beijing authorities appear to have censored online discussions and comments on Ri, removing them from social media platforms.
According to South Korean experts, Ri is believed to have been born in May, 1989, and was a singer in the North's Unhasu orchestra.
She is known to have married Kim in 2009 and had her first child in 2010.
Her visit to Beijing, alongside Kim, from Sunday to Wednesday this week, is an attempt to remake the North Korean regime's image on the world stage, as a "normal state," according to Victor Cha, Senior Adviser and Korea Chair of Center for Strategic and International Studies.