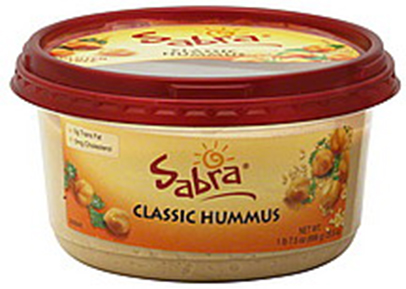 WASHINGTON, Nov. 20 (UPI) — Sabra Dipping Co. is voluntarily recalling hummus products and spreads because of possible Listeria, the U.S. Food & Drug Administration announced.
The products were distributed to retail outlets in the United States before Nov. 8 from an undisclosed plant where Listeria monocytogenes was found. But no bacteria was found in samples tests, the FDA said Saturday.
The products contain a "Best Before" date through Jan. 23, 2017, found on the lid of each package.
Consumers are urged by the FDA to discard the product.
Products include Hummus Carmelized Onion, Classic, Garlic, Jalapeno, Olive, Pine Nut, Red Pepper, Supremely Spicey, Spinach & Artichoke, Sun Dried Tomato, Basil Pesto, Lemon, Tuscan Herb Garden, Rosemary/Sea Salt, Taco, 3 Pepper Chili. Spreads include Spicy, Chili, Garlic Herb, Honey Mustard, Salt & Pepper.
Sabra products not included in the recall are Sabra Organic Hummus, Sabra Salsa, Sabra Guacamole and Sabra Greek Yogurt Dips.
Consumers can contact Sabra Consumer Relations at 1-866-265-6761 for additional information from 9 a.m. to 8 p.m. Eastern time. For product reimbursement, consumers can go to sabrahummusrecall.com.
Listeria monocytogenes can cause serious and sometimes fatal infections in young children, frail or elderly people, and others with weakened immune systems, the FDA said. Listeria infection can cause miscarriages and stillbirths among pregnant women. Symptoms usually include fever, muscle aches, stiffness, abdominal pain and diarrhea.
"We want to reassure our consumers that our procedures include extensive finished product testing, and no products tested positive for contaminants," the company said in a press release. "We are taking action because consumer safety is a top priority."
After an inspection with the FDA, Sabra said it "implemented a thorough and extensive factory-wide cleaning and sanitation procedure, and beyond that, we continue to work very closely with internal and external food safety experts to identify any additional steps we can take to even further enhance our efforts."