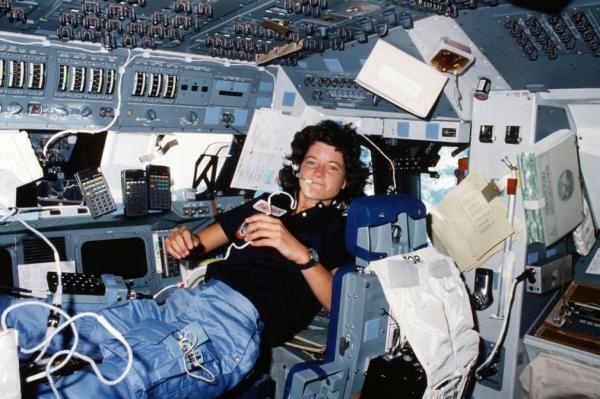 July 23 (UPI) — NASA astronaut Sally Ride, the first U.S. woman in space, died six years ago Monday after a life spent inspiring young women and girls to reach for the stars through careers in science, technology, engineering and mathematics.
Ride — born in Los Angeles — was among 8,000 people who answered NASA's call for new astronauts while she was working toward a doctorate in physics from Stanford in 1976.
She and five other women were selected for the 1978 astronaut class known as the "35 new guys," and would go on to inspire generations of female astronauts by being the first American woman — and just the third woman overall — to fly into space on June 18, 1983 at the age of 32.
Ride died in 2012 after a battle with pancreatic cancer. She was 61.
Following in Russia's footsteps
Although the United States famously beat Russia to the moon, Moscow got the better of NASA on two other occasions — sending the first human into space, and the first woman. Cosmonaut Valentina Tereshkova ventured into low Earth orbit on June 16, 1963, almost exactly 20 years before Ride.
Tereshkova's flight came during a period of readjustment in the role of women in the Soviet Union in the decades after World War II, which saw many men — both military personnel and civilians — killed in the conflict.
"After the war, in order to return to a normal social footing, women who had taken on traditionally male roles in civilian society were encouraged or forced to move out of those positions and into more traditional female working roles," Cathleen Lewis, curator of of International Space Programs and Spacesuits at the Smithsonian Institution's National Air and Space Museum, told UPI. "Women in post-World War II Russia suffered from this triple burden of being forced out of prestigious jobs, encouraged to continue to work and also bear and raise children."
Tereshkova and three other women were chosen to train at the Soviet Space Center at Star City, where they were subjected to the same centrifuge rides and zero-G flights as their male counterparts. They were also commissioned as junior lieutenants in the Soviet Air Force and given fight instruction.
By the time she and Tatyana Torchillova were chosen to train for the Vostok 6 flight, the one that put her into space, Tereshkova had already become a symbol for the ideal Soviet woman.
She was born in the village of Masslenikovo, where her parents worked on a collective farm until her father was killed in World War II. She worked in a textile mill at 18 and later joined a club for parachutists, making more than 150 jumps.
"Here is your hero of the Soviet Union, she was working for love of her country and rebuilding the country, going to space for love of her country and then of course months later she marries the only single male cosmonaut Andriyan Nikolayev and immediately has a baby," Lewis said. "So she hits the hat trick for Soviet women at the time."
Tereshkova's flight was meant to demonstrate the simplicity and the promise of new space technology, adding government pressure to succeed.
Lewis added the Soviet government took steps to prevent details of mishaps on Tereshkova's flight from becoming public, which led to rumors and speculation over the years that diminished the overall impact of her historic flight.
"There were many things that went not according to plan in the mission, and those things were covered up," she said. "There was nothing catastrophic, nothing precisely for which she could be blamed, but enough that it just didn't leave the same sentiment of heroic accomplishment of male cosmonauts."
Yuri Gagarin, for example, had become the first human in space in 1961. His celebrity was substantially larger than Tereshkova's — largely because her accomplishment occurred in a far different gender climate.
Tereshkova was subjected to sexist media coverage in the Soviet Union and abroad. After she completed her historic flight, one UPI report joked about Tereshkova having an affair with fellow cosmonaut Valery F. Bykovsky during their joint mission, while one U.S. space official spoke of "an allowance of 125 pounds for recreation equipment" on the Apollo moon missions, when asked about the possibility of a female astronaut in the United States.
After Tereshkova's flight it would be another 20 years before Russia sent another woman, Svetlana Savitskaya, into space to precede Ride's space flight.
A new era at NASA
Ride found her path to NASA through a deliberate effort at the agency to be more inclusive and hire astronauts from different fields.
When assembling its flight team for Project Mercury, the first human space flight program in the United States, NASA chose astronauts almost exclusively from test pilot school, a practice that continued until the end of the Apollo program.
In addition to announcing a desire to hire women and minorities in 1976, NASA also sought to recruit more people with backgrounds outside of flight training, NASA historian Jennifer Ross-Nazzal told UPI.
"There had been scientist astronauts selected before, but there was a real emphasis on using the space shuttle orbiter as a lab in space," Ross-Nazzal said. "There were a number of folks selected as mission specialists, they didn't have to have flight time and a lot of them had graduate degrees in science or engineering."
In all, six women — Ride, Anna Fisher, Shannon Lucid, Judith Resnik, Rhea Seddon and Kathryn Sullivan — were selected as part of the 1978 class, along with four of the first African-American and Asian-American astronauts.
When she was chosen to become the first American woman in space in 1983, Ride faced many of the same challenges and pressures as did Tereshkova.
Even in the decades after, Ride still faced reporters asking if she would cry if something were to go wrong while she was in the space flight simulator. Some joked that a delay of the STS-7 launch was the result of Ride searching for a handbag to match her shoes.
"There's really these awkward moments where here's Sally Ride, who is sort of the epitome of what feminism is, that women can do it all, women can be astronauts, but yet the media continues to rely on these stereotypes that women and technology don't mix, women and science don't mix," Ross-Nazzal said.
The media coverage was compounded with pressure, for both Ride and Tereshkova, to prove they were capable of completing a space flight.
"She, of course, felt a great deal of pressure to not mess things up being the first, because she knew that if something were to happen that might have a dramatic impact on her colleagues who are part of her class," Ross-Nazzal said of Ride.
In a 1998 interview for the 25th anniversary of her flight, Ride recalled the pressure she faced.
"The fact that I was going to be the first American woman to go into space carried huge expectations along with it," Ride said. "That was made pretty clear the day that I was told I was selected as a crew.
"I was taken up to [former NASA flight control manager] Chris Kraft's office. He wanted to have a chat with me and make sure I knew what I was getting into before I went on the crew. I was so dazzled to be on the crew and go into space I remembered very little of what he said."
Ultimately the flight was successful, and Ride continued to work with NASA until 1989. She made a return trip to space in 1984 on shuttle mission STS-41G — this time with another female astronaut, Kathryn Sullivan.
Lasting impact
At least 50 women have flown with NASA, including those in Ride's astronaut class. In fact, she's often thought of in the same breath as Christa McAuliffe, a school teacher chosen to fly on the Space Shuttle Challenger in 1986.
McAuliffe, 37, would have been the fifth woman in space — if Challenger hadn't exploded just 73 seconds after leaving the launch pad. Judith Resnik, the fourth woman in space, also died on Challenger.
"All of the women who were selected in 1978 and 1980 flew before the Challenger accident and they all went on to do amazing things for the space agency, they all had amazing flights and experiences," said Ross-Nazzal.
That class of female astronauts went on to inspire other women, like Ellen Ochoa, who became the first Hispanic woman in space in 1993 and later the director of the Johnson Space Center in Houston. Peggy Whitson, who holds the U.S. record for most days in space, at 665, also found inspiration in her predecessors.
"There are a number of outstanding women the public might know today, but don't realize they were influenced by, not only Sally Ride, but her other 5 colleagues that were selected in 1978," Ross-Nazzal said. "They were sort of the vanguard for women coming into the astronaut office."
Ride was also instrumental in developing the space shuttle's robotic arm, which was instrumental on later missions to launch and retrieve satellites and make the famous repair of the Hubble Space Telescope in 1993.
After her NASA career ended, Ride joined the faculty at the University of California, San Diego, and founded Sally Ride Science in 2001 with partner Tam O'Shaughnessy, Karen Flammer, Terry McEntee and Alann Lopes.
The organization is based at UC San Diego Extension and seeks to encourage girls and young women to pursue careers in science, technology, engineering, arts and math, or STEAM, through K-12 education programs.
"The goal is to help educators build students' STEM literacy and make connections between what students are learning and the STEM fields that are expected to experience rapid job growth in the coming decades," the organization's website states.
Ride has received a number of honors over the years. An Earth camera aboard the International Space Station is named for her and she was posthumously awarded a Presidential Medal of Honor by President Barack Obama in 2013.