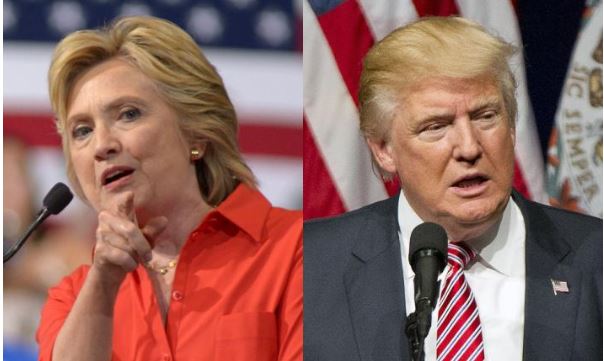 WASHINGTON, Aug. 5 (UPI) — A slew of surveys in swing states show Hillary Clinton with wide leads over Donald Trump in several traditional battleground states and winning narrowly or drawing even in some historically conservative states.
The most surprising results over the past week come from a trio of normally safe red states: Missouri, Georgia and Arizona. Polls there show Clinton and Trump in close contests.
Then there are the battleground states, where Clinton is faring quite well following the Democratic National Convention and a week of intensely negative headlines for Trump. The UPI/CVoter daily presidential tracking poll shows Clinton with a solid and growing lead nationally.
The question over the coming weeks: Are these polls reflective of a post-convention bounce for Clinton that will recede in time, or will the numbers stick, cementing her as the favorite?
Changing red to purple
While none of the three states have been polled as extensively as more traditional battlegrounds like Florida, Ohio and Pennsylvania, each have produced surveys suggesting Clinton is expanding her electoral map, while Trump's appears to narrow.
A poll by the St. Louis Post-Dispatch released July 30 showed Clinton leading Trump by a single point in Missouri. That represents a major shift from just a few days earlier, when SurveyUSA released a Missouri poll July 26 that showed Trump up by 10 points.
In Georgia, the Atlanta Journal Constitution said Clinton leads by 4 points, a state no Democrat has won since Bill Clinton in 1992.
In Arizona, polling has swung wildly, with one survey showing Clinton leading by 3 points and another showing Trump up by 8 points.
While it remains unlikely that any of these states would be a "tipping point" for Clinton — pollster language for the state that puts a candidate over the top in the electoral college — Clinton's standing in each is a show of strength.
Clinton leading in most traditional battlegrounds
In Florida, a state crucial to Trump's ability to secure 270 electoral votes, it appears as though Clinton has opened up a small but steady lead. Polling has fluctuated some in Florida, but the most recent survey done there, by Suffolk University, shows Clinton leading by 6 points.
The NBC/Wall Street Journal poll showed a similar Clinton lead of 7 points. However, a JMC Analytics poll gave Trump a 5 point lead. Real Clear Politics averaged polls and gives Clinton a 2.7 point lead. FiveThirtyEight.com's analysis of the Florida race shows Clinton with an average 6 point lead and an overall 82 percent chance of winning the state's 27 electoral votes.
Ohio appears the closest traditional battleground state.
Four of the last five surveys released there showed the race a tie. One other showed Clinton leading by 4 percentage points. The Real Clear Politics Ohio 30-day average shows Clinton with a razor-thin 0.8 percentage point edge, based largely on the strength of the one pro-Clinton poll, which was conducted prior to either convention.
FiveThirtyEight, however, uses a model that tweaks the polls for what is known as the "house effect" — or the inherent biases in different polling firms as shown over time. It also weights some polls more heavily than others given the historical accuracy of the firm and which were conducted more recently.
Accordingly, while FiveThirtyEight incorporates the same polls as Real Clear Politics, it arrives at a different conclusion: Clinton leads by 6 points and if the election were held today, she would have an 86 percent chance of winning the state.
If Ohio is razor thin according to polls, Pennsylvania is the opposite. Surveys have consistently shown Clinton with a solid lead in the Keystone State. In fact, of all the surveys dating back to April, only one, conducted in early July, has shown Trump with a lead.
Overall, Real Clear Politics rates Clinton as holding an 8-point lead.FiveThirtyEight is equally optimistic about her chances, projecting her as leading by 9 points with a 92 percent chance of winning the state if the election were held today.