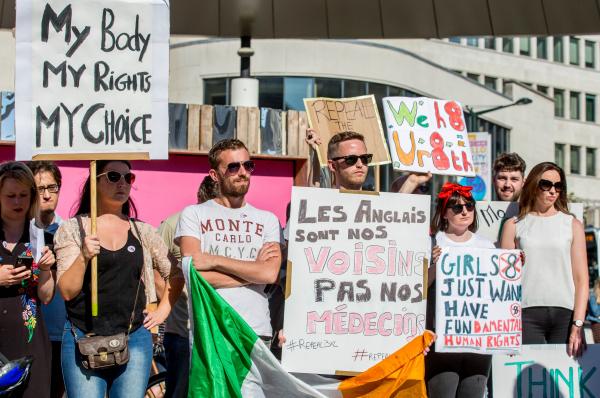 Sept. 30 (UPI) — Thousands of people marched through the streets of Dublin on Saturday calling for a repeal of the nation's longstanding constitutional ban on abortion.
Organizers told the Irish Times 30,000 people, many carrying signs promoting women's rights, took part in the protest, the largest since Ireland's leader announced last week that a referendum on the issue would be held next year.
Ireland, which is predominantly Catholic, is home to some of the most restrictive abortion laws in Europe. The Eighth Amendment to the Irish constitution, introduced in 1983, restricts abortion at any point in a pregnancy unless the mother's life is at risk. Under Irish law, the maximum punishment for women seeking an illegal abortion is 14 years.
Consequently, thousands of Irish women are forced to travel abroad if they wish to terminate a pregnancy, a fact opponents say is unfair to low-income and working women who can't afford to do so, or risk losing their jobs if they take the time off.
The BBC reported a second women's rights protest was held in London in front of the Irish embassy, meant to highlight that disparity.
Anti-abortion groups said in advance of Saturday's rally they intended to stage counter protests along the demonstration route, though no evidence of an organized response was reported.
Marchers sought to sway Taoiseach Leo Varadkar, Ireland's prime minister, who has yet to come out publicly in support of repealing the abortion ban. He said the referendum would be held next summer, though protesters said that was too long to wait.
Protest leaders who spoke at the rally said Irish women had endured "barbaric" laws for long enough.
"It's unbelievable that we're still here asking for something we asked for almost 50 years ago, demanding something we demanded almost 50 years ago," said former MP Bernadette Devlin McAliskey. "We expect, and we demand, and we are entitled to exercise the same bodily integrity as every other human being on the face of this planet."