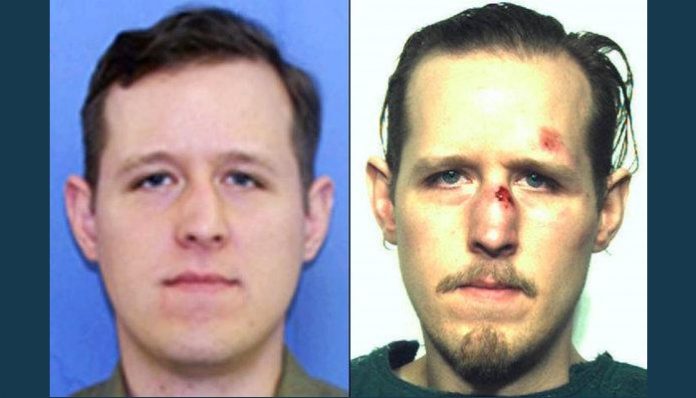 April 7 (UPI) — Pennsylvania trooper Robert Golden testified he thought "somebody was trying to take over" the police barracks where Eric Frein is accused of fatally shooting an officer.
On Wednesday, the second day of witness testimony in the trial in Pennsylvania's northeastern Pike County, Golden and other troopers recounted the events that occurred on the day of the 2014 shooting.
Frein, 33, is on trial for first-degree murder and terrorism charges. He faces the death penalty for the ambush and shooting of two state police officers on Sept. 12, 2014. Cpl. Byron Dickson II was shot and killed, and trooper Alex Douglass was injured during the shooting at the remote Blooming Grove State Police Barracks.
"My thought was … somebody was trying to take over the barracks," Golden said during testimony. "This was an attack. This was an attack on our barracks."
Golden described the panicked moments after the shooting. He said officers rushed to secure the building and rescue their colleagues.
Four officers testified on Wednesday. They said they initially did not rush to help Dickson, who was bleeding on the barracks' sidewalk. Several troopers said they had experience as U.S. Marines and said they knew snipers often begin attacks by shooting one person to draw out more people.
Officers then pulled up a car to serve as a shield to attempt to rescue Dickson, but some officers said they sensed he was already dead.
"I remember slapping Dickson in the face and yelling, 'Dickson, are you there?'" Golden, who dragged Dickson inside the barracks, said. "Just looking in his eyes, there was nothing. There was nothing in his eyes at all."
When the shooting first occurred, trooper William Fells said he did not initially react.
"I thought maybe someone dropped something, I misheard it, and I went back to flipping through the channels on the TV," Fells said.
When someone told Fells about the shooting and the injured officers, Fells said he looked out and saw the officers laying on the ground. He said he then jumped into action while shouting "profanities."
The third day of the Frein trial was delayed on Thursday. Prosecutors said Frein was taken to the hospital Wednesday but did not offer further details.
Frein appeared on the FBI's Ten Most Wanted List after the 2014 shooting, and triggered a manhunt lasting 48 days and involving more than 1,000 law enforcement officers searching the Pocono Mountains region of the state. Lives of area residents were disrupted by the manhunt: Schools were closed, trapping was banned in the area and the typically lucrative fall foliage season attracted few tourists.
The manhunt attracted national media attention and prompted defense attorneys to seek jurors from another county, who were aware of, but unaffected by, the case. Frein's trial will likely be focused on whether he deserves the death penalty for Dickson's death.