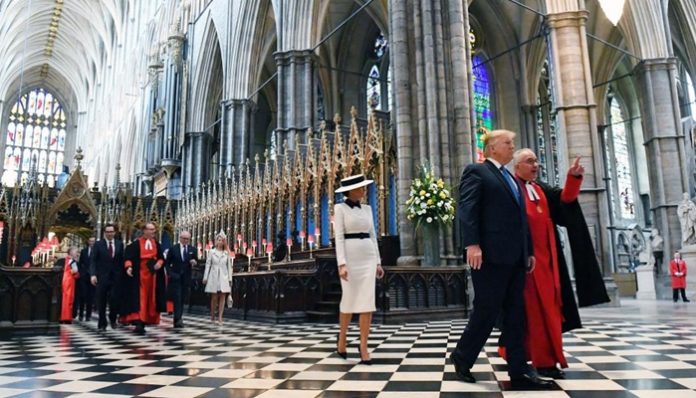 June 3 (UPI) — President Donald Trump and British Queen Elizabeth II toasted their respective countries' "common values" during a state banquet Monday at Buckingham Palace to honor the U.S. contingent's visit to London.
Dozens of members of the royal and Trump families, administrative officials and diplomats filed into the palace's ballroom, which took four days to arrange, decorate and set for the opulent dinner.
President Trump and the queen sat side-by-side, while the first lady sat next to Prince Charles, and Camilla, duchess of Cornwall, sat to Trump's right. Both leaders gave short speeches before dinner began.
"Mr. President, as we look to the future, I'm confident that our common values and shared interests will continue to unite us," the queen said. "Tonight we celebrate an alliance that has helped to ensure the safety and prosperity of both our peoples for decades, and which I believe will endure for many years to come."
They both acknowledged this week's 75th anniversary of the D-Day landings on Normandy beaches in France, a deadly battle that turned World War II in favor of the Allies.
"As we honor our shared victory and heritage, we affirm the common values that will unite us long into the future: freedom, sovereignty, self-determination, the rule of law and reference for the rights given to us by almighty God," President Trump said.
Though it is Trump's second visit to Britain as president, Monday's was the first official state banquet to be held in his honor at Buckingham Palace. Also in attendance at the event were members of the Trump family — Ivanka Trump, Jared Kushner, Tiffany Trump, Eric Trump, Laura Trump and Donald Trump — and British royal family — Prince William, Catherine, Duchess of Cambridge, Prince Edward, Prince Andrew and Princess Anne.
On the menu was steamed halibut with watercress mousse, asparagus spears and chervil sauce; lamb with herb stuffing, spring vegetables and port sauce; strawberry sable with lemon verbena cream; a selection of fresh fruit; coffee and petit fours; and a variety of wine.
The state banquet came after a busy day for the Trumps as they met with members of the royal family and toured iconic locations in London.
The Trumps arrived at London Stansted Airport before departing for the U.S. ambassador's residence. A short time later, the president traveled to Buckingham Palace and was introduced to the queen and members of the royal household.
After Trump inspected the honor guard, the Trumps and Windsors stood at the entrance as a band played "God Save the Queen" before they went inside for a private lunch, which was attended by Prince Harry.
After lunch, the Trumps viewed an exhibit of artifacts from the royal collection that had ties to the United States, including an 18th century map of New York, a pewter horse statuette Trump gave the queen last year and older photos of golfers.
The Trumps then visited Westminster Abbey, where they laid a wreath at the Tomb of the Unknown Warrior. The grave memorializes all soldiers from World War I who died and weren't recovered.
The Trumps also signed a guestbook at the abbey. Also present at the ceremony were White House advisers Jared Kushner and Ivanka Trump and Treasury Secretary Steve Mnuchin.
After, the Trumps met Prince Charles and the duchess of Cornwall, for tea at a royal house across from Buckingham Palace.
Trump is also scheduled to meet with British Prime Minister Theresa May during his visit, and will travel to Ireland on Wednesday to meet Prime Minister Leo Varadkar. The Trumps will then attend ceremonies marking the 75th anniversary of D-Day, the allied forces' landing at Normandy, France, during World War II.
Trump's visit comes amid political turmoil in Britain as May is scheduled to step down Friday after failing to to get an agreement passed to leave the European Union.
Trump caused a stir before landing Monday, criticizing London Mayor Sadiq Khan.
"Sadiq Khan, who by all accounts has done a terrible job as Mayor of London, has been foolishly 'nasty' to the visiting President of the United States, by far the most important ally of the United Kingdom," Trump said. "He is a stone-cold loser who should focus on crime in London, not me."
Trump's remarks followed criticism Sunday from Khan, who dismissed the presidential visit. Khan said Britain will one day look back on the visit with "profound regret," and said Trump is "one of the most egregious examples of a growing global threat."