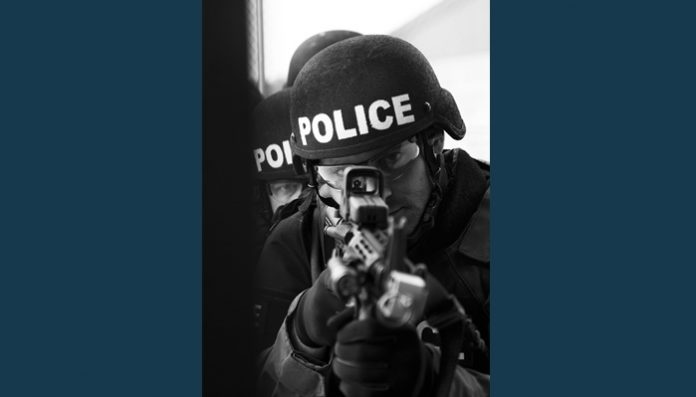 Aug. 29 (UPI) — President Donald Trump has issued an executive order rolling back an Obama-era policy preventing the U.S. military from selling surplus gear to local law enforcement entities, Attorney General Jeff Sessions announced Monday.
Sessions, speaking to the Fraternal Order of Police in Nashville, said the order would allow local police to gain access to "life-saving gear that you need to do your job."
In May 2015, the administration of then-President Barack Obama banned some military-grade equipment from being acquired by local police. At that time, some accused law enforcement of using excessive force and being too militarized while dealing with protests and some violent riots over the police-involved deaths of African-American men in Ferguson, Mo., Baltimore and other cities.
The list of barred items included tracked armored vehicles, weaponized aircraft and vehicles, bayonets, grenade launchers, and large-caliber firearms. Under more rigorous control, law enforcement agencies were still able to acquire armored vehicles, tactical vehicles, riot gear, and specialized firearms and ammunition.
"We've seen how militarized gear sometimes gives people a feeling like they are an occupying force as opposed to a part of the community there to protect them," Obama said during a speech in Camden, N.J. "Some equipment made for the battlefield is not appropriate for local police departments."
Sessions, though, said the ban went too far.
"One sheriff told me earlier this year about how, due to the prior administration's restrictions, the federal government made his department return an armored vehicle that can change the dynamics of an active shooter situation," he said Monday.
"These are the types of helmets and gear that stopped a bullet and saved the life of an officer during the Orlando, (Fla.), nightclub shooting. This is the type of equipment officers needed when they pursued and ultimately killed terrorists in San Bernardino, (Calif). Studies have shown this equipment reduces crime rates, reduces the number of assaults against police officers, and reduces the number of complaints against police officers," Sessions added.
Kanya Bennett, legislative counsel for the American Civil Liberties Union issued a statement Monday, saying the Justice Department should give local law enforcement "practical, effective ways to protect and serve everyone."
"We have an epidemic in the United States of police using excessive force, particularly against people of color, with injuries and deaths mounting. It defies logic to arm the police with weapons of war — grenade launchers, high-caliber assault weapons, and more — but that's precisely what President Trump and Attorney General Sessions have decided to do," she said.
Sen. Rand Paul, R-Ky., said he disagreed with Trump's order and called the militarization of law enforcement "an unprecedented expansion of government power."
"I will oppose this move by the AG and administration. And I will continue to fight for our civil liberties and criminal justice reform," he said in a series of tweets Monday. "All will be major issues this fall. Any order today still needs to be funded and I'll bring this issue to the Senate floor."