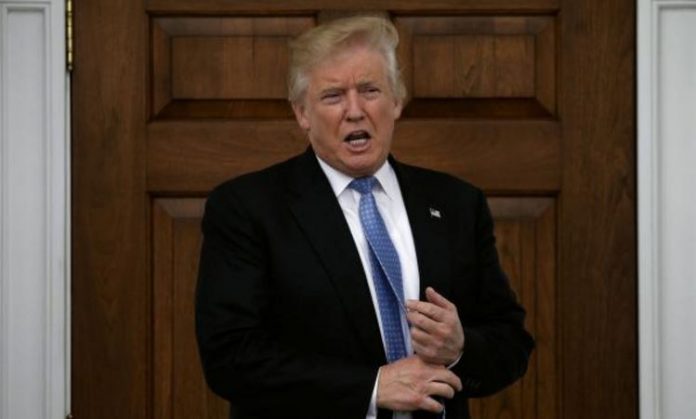 NEW YORK, Dec. 5 (UPI) — After being roundly criticized for a congratulatory phone call he accepted from the president of Taiwan, U.S. President-elect struck back by questioning China's actions in the South China Sea and reiterating accusations the country manipulates its currency.
Trump responded to an official complaint from China, as well criticism inside the U.S. government, for the unauthorized call, asking if China has asked the United States for permission before some of the actions it has taken — rattling many in the foreign policy community.
With the phone call on Friday, Trump is the first U.S. president or president-elect to speak with a president of Taiwan since President Jimmy Carter cut off official communications with the nation in 1979 at the request of China. The action was meant to recognize the "One China" policy, which includes consideration of Taiwan as a province of China, not an independent nation.
"We urge the relevant side in the U.S. to adhere to the 'one China' policy, abide by the pledges in the three joint China-U.S. communiques and handle all issues related to Taiwan carefully and properly to avoid causing unnecessary interference to the overall China-U.S. relationship," Geng Shuang, spokesman for China's Foreign Ministry, said in a statement Saturday.
Trump initially responded on Friday, tweeting that it is "interesting how the U.S. sells Taiwan billions of dollars of military equipment but I should not accept a congratulatory call."
After two days of criticism from officials in the U.S. and the official complaint from China, Trump suggested he does not need permission to talk to the leader of another country, regardless of agreements.
"Did China ask us if it was OK to devalue their currency (making it hard for our companies to compete), heavily tax our products going into their country (the U.S. doesn't tax them) or to build a massive military complex in the middle of the South China Sea? I don't think so!" Trump said in two tweets on Sunday night.
Aside from the United States actually taxing Chinese goods, though at lower rates than China taxes products from the United States, experts said the call may represent a shift in U.S. policy toward both Taiwan and China.
Many of Trump's advisors have spoken in recent years about changing policy on Taiwan because of their position as an ally — the U.S. and Taiwan have no official contact, but the U.S. sells them weapons and the two interact through various global organizations — and potentially as a way to nudge China from its attempts at dominating the South China Sea.
"Having lived in Taiwan twice and having lived in China once, there's a little too much hyperventilating about this one," said Jon Huntsman, former Utah Gov. and ambassador to China, who has been added to Trump's shortlist for as secretary of state.
"But the issue should be this — does Taiwan deserve a little more space? We share values, they have a big economy, we trade, they have a civil society that is large and robust and mature, and we ought to be giving them a little more space."