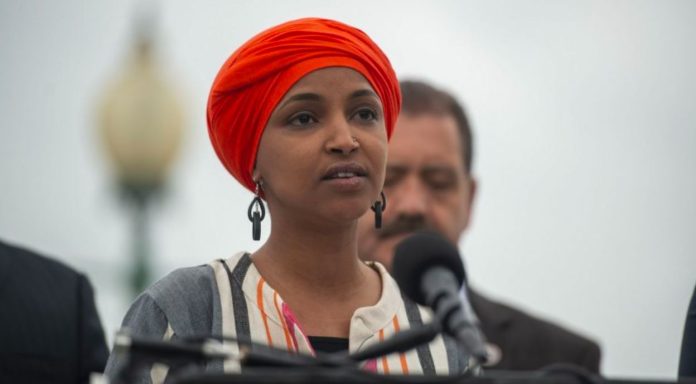 Feb. 2 (UPI) — The Republican-led U.S. House of Representatives voted along party lines to remove Rep. Ilhan Omar, D-Minn., from the Foreign Affairs Committee Thursday.
The resolution to remove Omar passed 218 to 211. Ohio Republican Rep. David Joyce voted "present," while Wesley Hunt, R-Texas; Greg Pence, R-Ind.; W. Gregory Steube, R-Fla.; and Tennessee Democrat Steve Cohen did not vote.
House Speaker Kevin McCarthy said that Omar's removal is in relation to past behavior the lawmaker has demonstrated, such as a tweet that was condemned by Democratic leadership as antisemitic and that compared the U.S. military with Hamas and the Taliban.
"She said Americans only like Israel because it's all about the Benjamins,'" McCarthy said to the press following the vote, and later shared to Twitter. "What does that say to other people around the world? It's not right. We were right in our action and she can serve on other committees. It puts America in jeopardy and I'm not going to do that on my watch. And it's fair in the process, unlike them."
The decision follows McCarthy rejecting Democratic representatives Adam Schiff and Eric Swalwell's bids to return to the House Intelligence Committee. Prior to that move, McCarthy approved assigning controversial Georgia Rep. Marjorie Taylor Greene to the Homeland Security Committee and Rep. Paul Gosar to the Committee on Natural Resources.
Taylor Greene and Gosar were stripped of their committee assignments by the Democratic majority because of incendiary rhetoric and troubling associations with white nationalist organizations.
House Minority Leader Rep. Hakeem Jeffries dismissed the reasoning to remove Omar by Rep. McCarthy and Republican leadership in a briefing prior to the vote, saying the resolution is not about accountability.
Jeffries noted that Democrats immediately condemned Omar for her problematic statements after they were made and acted to condemn antisemitism globally, which Omar voted in favor of.
The leading House Democrat stood before a backdrop of controversial tweets made by House Republicans, including Taylor Greene and newly sworn-in Florida Rep. Cory Mills.
"It's not about accountability. It's about political revenge," Jeffries said. "This type of poisonous toxic double standard is going to complicate the relationship moving forward between House Democrats and House Republicans."
Jeffries differentiated Democrats' removal of committee assignments from the actions taken by the Republican-led House, saying the line is drawn at members making and supporting acts of violence against their colleagues.