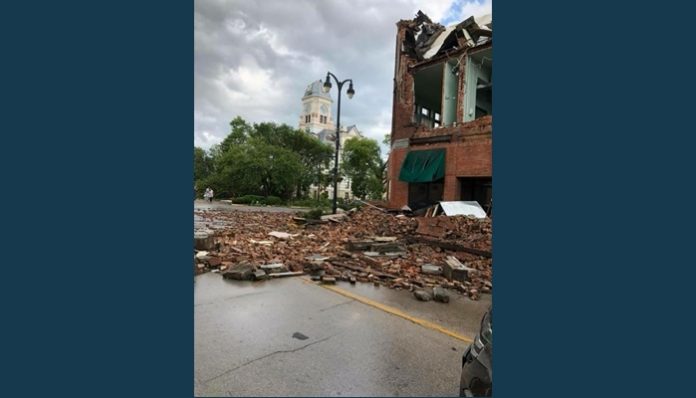 Sept. 5 (UPI) — Unseasonal flooding in Iowa this week is ravaging a town still recovering from tornado damage, creating fear among residents that they won't be able repair their homes before winter.
Marshalltown, Iowa, is racing to rebuild the hundreds of buildings that lost roofs and suffered structural damage from an EF-3 tornado that tore through the city's downtown in July. But a week of heavy rain and flooding has halted the work.
"It's bad," said Bobby Shomo, an insurance provider who works in downtown Marshalltown. "And now contractors can't work while it's wet, so we're at a standstill. That's the most frustrating thing, because the buildings have to be watertight by winter. The timeline to do that was tight to begin with and this is pushing us back even further."
It's also creating additional water damage to hundreds of buildings that are still missing roofs and walls.
"It's a bad combination," Shomo said.
The July 18 tornado cut through 88 city blocks — including the city's historic downtown, said Jenny Etter, executive director of the Marshalltown Central Business District. Around 800 buildings were damaged, with 250 severely damaged.
This week's flooding is common in Iowa, though out of season, said Mindi Beerends, a senior meteorologist at the National Weather Service in Iowa. The state generally experiences its heaviest rain in July and early August.
Some 9 inches of rain fell in some areas over Labor Day weekend.
After the week of rain, rivers across Iowa are running high, with several hitting flood stage, Beerends said. The rain will likely continue over the next few days, but may abate by the weekend, she said.
Marshalltown residents must wait for it to pass to reassess the damage, Shomo said. He suspects insurance claims will rise between 25 and 100 percent.
"It is what it is," Shomo said. "And we can't do much about it."