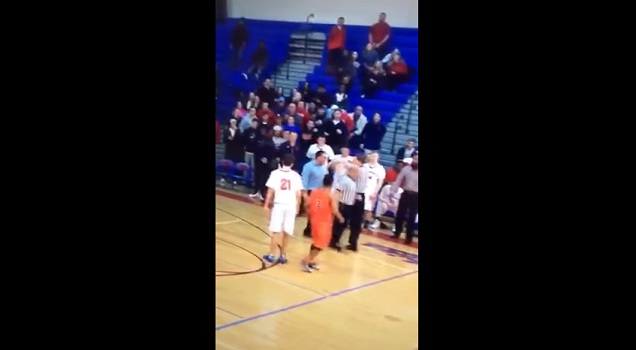 MIDDLETOWN TOWNSHIP, Pennsylvania, Jan. 6, 2016 (Gephardt Daily) — A Neshaminy High School basketball coach and teacher has been placed on leave after an alleged head-butting incident with a referee during a basketball game Tuesday night.
The incident, caught on video, shows coach Jerry Devine arguing with the referee during the last 30 seconds of a game between Neshaminy High School and Pennsbury high school after a foul was called on a Neshaminy player.
Another referee approached when Devine seemed to charge at him and knock him to the ground with either a head-butt or a chest-bump. Different angles of the incident were recorded and are currently under review.
The Neshaminy School District said in a prepared statement released Wednesday morning that Devine had been placed on administrative leave pending the outcome of the review.
"The athletic program at Neshaminy places the values of fair play and sportsmanlike conduct above all. We expect our coaches and staff to teach and uphold those principles, while acting in a professional manner at all times."
The referee was not injured in the incident.
[hdplay id=367]