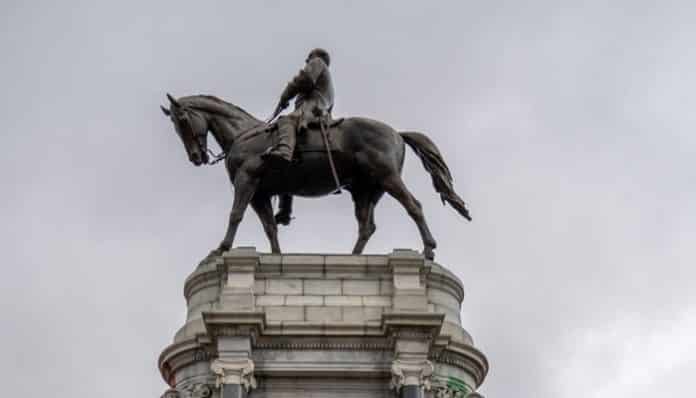 Sept. 7 (UPI) — Officials in Virginia said Monday that a statue of Gen. Robert E. Lee, the largest Confederate monument still standing in the United States, will be torn down on Wednesday, bringing an end to protracted litigation that began more than a year ago when Gov. Ralph Northam ordered its removal.
"Virginia's largest monument to the Confederate insurrection will come down this week," the Democratic governor said in a statement. "This is an important step in showing who we are and what we value as a Commonwealth."
In June of last year, Northam ordered the 60-foot statue removed following nationwide protests against the Memorial Day police-involved killing of George Floyd in Minneapolis, attracting lawsuits from a descendent of the family who donated it as well as from interested citizens.
William Gregory, the descendent of the donating family, argued that deeds from more than a century ago stated that the state agreed to view the monument and the ground it stands upon as "perpetually sacred."
The cases eventually made their way to the Virginia Supreme Court, which ruled last week in the state's favor.
In its unanimous ruling in the Gregory case, the court said there was no evidence in the deeds made with the state showing that he had any ownership interest in any land concerning the statue, "[t]hus, he has no property right related to the Lee monument," allowing for it to be torn down.
The statue, erected in 1890, will be placed in storage until a decision has been made on what to do with it. The 40-foot granite pedestal on which it stands upon will remain until a decision is made on what should be done with the surrounding area, the state said.
On Tuesday evening, crews will install protective fencing in the area and the public will be allowed to watch the statue's removal, which will also be livestreamed online. On Thursday after the statue has been removed, crews will take plaques from the base and will replace a time capsule believed to be located on the site.
"We are taking an important step this week to embrace the righteous cause and put the 'Lost Cause' behind us," Richmond Mayor Levar Stoney said. "Richmond is no longer the capital of the Confederacy. We are a diverse, open and welcoming city, and our symbols need to reflect this reality."