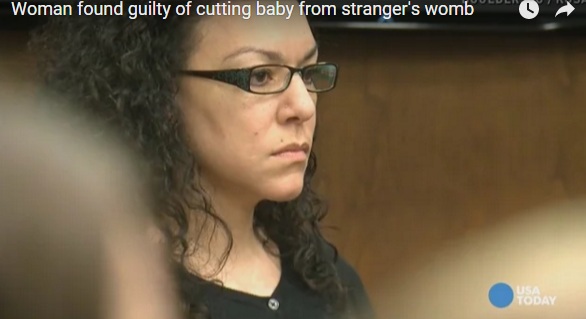 BOULDER, Colo., Feb. 23 (UPI) — A Colorado woman was convicted of first degree murder Tuesday for luring a pregnant woman to her basement last year and cutting out her 7-month-old fetus.
Dynel Lane was found guilty of the offense, first-degree attempted murder, for the March 2015 attack in the town of Longmont — about 35 miles north of Denver.
Jurors got the case Monday and deliberated for six hours before adjourning for the evening. They deliberated for another hour Tuesday before the reached the verdict, The Denver Post reported.
In addition to the attempted murder charge, Lane, 35, also was convicted of assault and unlawful termination of a pregnancy.
According to investigators, Lane lured Michelle Wilkins to her home through an online ad selling baby clothing. When Wilkins, 27, arrived, she became the victim of a frenzied attack.
"She was shopping on Craigslist and she came to this house to buy baby clothes," Longmont police Cmdr. Jeff Satur said at the time. "When she got here, she got assaulted and was stabbed and her baby was removed."
The unborn baby died as the result of the attack. Lane was arrested by police when she arrived at the same hospital Wilkins was being treated at, with the baby in her arms, and claimed she had miscarried.
Also at the hospital, police said, Lane claimed it was she who was attacked by Wilkins, and that she cut the fetus out of the womb in an attempt to save the baby — a girl Wilkins had named Aurora.
"I did all the things that a mom would want to do," Wilkins said in an interview Tuesday. "But knowing that she was only present in spirit and not physically was a really painful thing to grasp."
At trial, Lane's public defender argued there was no premeditated plan to attack Wilkins and cut out the baby. She called the assault "impulsive" and "hasty."
Lane faces a minimum of 16 years in prison for the crimes and could receive a sentence of up to 120 years. She will be sentenced April 29.
"I do not hate Dynel, but I am angry for all the pain that she caused," Wilkins said Tuesday. "It had just never entered my world view that someone could be so cruel."
Wilkins, who recovered from her wounds, called the conviction a "triumph of justice."
Wilkins' testimony during trial offered jurors a grim glimpse of the bloody attack.
"I kept saying, 'Why are you doing this?'" Wilkins testified last week, saying she told Lane, "I don't know why you're doing this, but I love you."
"If you love me, you'll let me do this," she said Lane replied before stabbing her in the neck.
Prosecutors argued that Lane was desperate to produce a baby after telling her boyfriend she was pregnant.