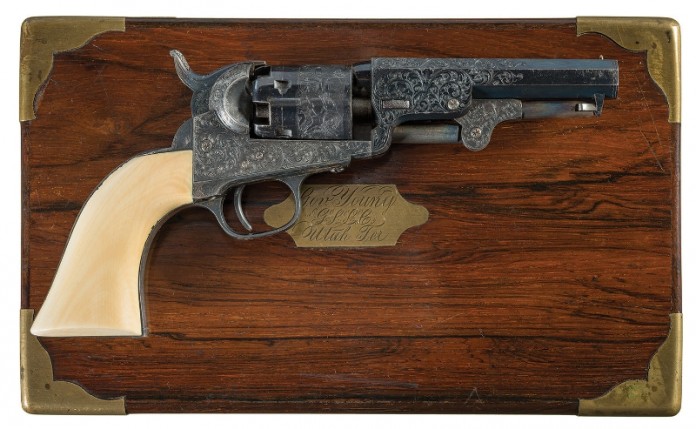 ROCK ISLAND, Ill., April 11, 2016 (Gephardt Daily) — An Illinois auction house will sell a Colt revolver said to have belonged to former LDS Church president Brigham Young.
The gun, reportedly owned by one of Young's direct descendants, is expected to go for between $550,000 and $850,000 at the auction, which runs April 29 through May 1.
"This is an iconic piece of Americana," said Kevin Hogan, president of the Rock Island Auction Company, which will host the sale.
"Its direct ties to the settling of the West, and to the early Mormon Church, are incredible. Frankly, we're fortunate this piece isn't already housed in a museum. It is an unrivaled opportunity to own a newly discovered national treasure."
Young (1801-1877) was the second president of the Church of Jesus Christ of Latter-day Saints and the first governor of the Utah Territory.
He led the LDS Church members to what would become Utah after church founder Joseph Smith was killed in 1844 by an angry mob in Nauvoo, Ill.
According to the Rock Island Auction Company, the revolver is personally inscribed to Young, and was presented to him by what was then the largest firearms dealer west of the Mississippi, H. E. Dimick & Co.
It comes to Rock Island Auction from the direct descendants of Young and is accompanied by a letter of provenance from Young's great-grandson.