NEW YORK, Aug. 25 (UPI) — Presidential hopeful Donald Trump is once again clashing with with Fox News anchor Megyn Kelly.
This time Trump has taken the fight to Twitter, tweeting out disparaging remarks about the TV personality after she returned to her show," The Kelly File", after an 11-day vacation.
Before the episode aired, Kelly tweeted out a photo highlighting Trump's immigration proposals including his plans to "deport all illegal immigrants," and to "end birthright citizenship."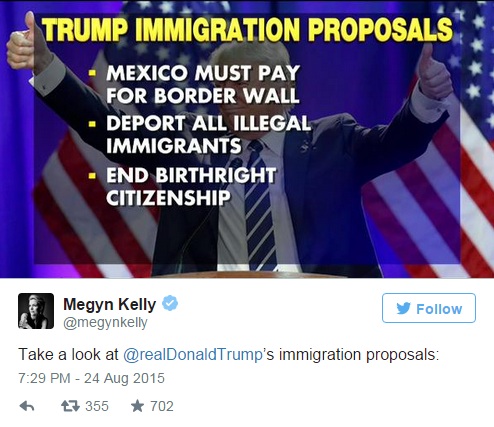 Trump didn't take too kindly to the tweet and unleashed a tirade, which included the business owner quoting other Twitter users who dislike Kelly.
"@megynkelly must have had a terrible vacation, she is really off her game. Was afraid to confront Dr. Cornel West. No clue on immigration!," read one tweet. "I liked the Kelly File much better without @megynkelly. Perhaps she could take another eleven day unscheduled vacation!"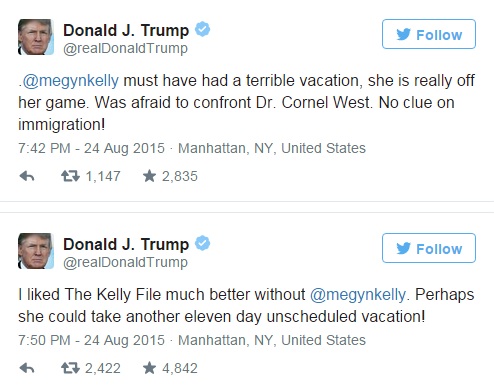 Us Weekly has confirmed that Kelly's vacation was planned prior to the drama with the real estate mogul.
The feud started on August 6, when Kelly confronted Trump about his history of sexist slurs during a debate. Trump claimed that political correctness was the country's "issue," saying that he "frankly" doesn't have time for it. The back and fourth exchange between the two received widespread media coverage.
On August 10, Kelly addressed the controversy on her show stating I've decided not to respond. Mr. Trump is an interesting man who has caught the attention of the electorate. That's why he's leading in the polls. Trump, who is the front-runner, will not apologize, and I certainly will not apologize for doing good journalism."