Source: YouTube/Sarah Burris via ABC Australia
WASHINGTON, D.C., Jan. 21, 2017 (Gephardt Daily) — White nationalist Richard Spencer, whose public appearances and talks have sparked racial controversy, was sucker punched Friday while doing a video interview following the inauguration of Pres. Donald Trump.
Spencer, who leads what he calls the alt-right movement, was speaking with a crew from ABC Australia at about 2:30 p.m. Eastern Time when he was approached by a man whose face was hidden, and who punched him in the side of the head.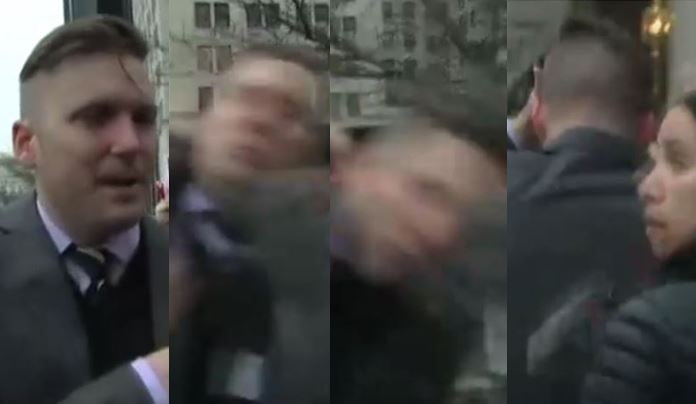 Spencer rushed from the scene, smoothing his hair, and was trailed by an associate. Soon after, he posted a message on Twitter:

Spencer then went online live for 10-minutes, and referred to the assault as "a really terrible thing." A bit later, Spencer tweeted another message:

After responding to tweeters who found the punch funny, Spencer on Saturday posted that he would file charges against the man who assaulted him, allegedly captured on camera by someone who had witnessed the attack.

Spencer has said he is not a white supremacists, but he has called for "peaceful ethnic cleansing" and supported a ban on non-European immigration. An interview on The Intercept website quoted Spencer as saying "America belongs to white men."