The halls of the White House were filled with science projects as President Obama welcomed more than 100 young scientists for the fifth-annual White House Science Fair.
The President spoke with students about the role that Science, Technology, Engineering, and Math (STEM) plays in their lives, and urged them to keep exploring, dreaming, and asking why. He also announced a number of ambitious steps to inspire young people to engage with STEM fields and help them achieve their goals.
As part of the Science Fair, approximately 35 student teams exhibited innovative projects — including discoveries and insights in key areas such as disease diagnostics, clean energy, and information security — as well as inventions ranging from the "why didn't I think of that?" Automatic Page-Turner for People with Arthritis to the "who'd have ever thought that possible – Hiccup-Curing Lollipop!.
The President personally viewed some of these projects, marveling at the incredible ingenuity on display from student innovators across the country including some as young as six years old.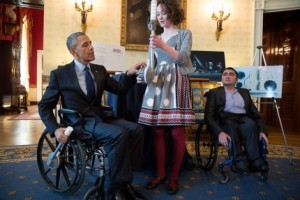 In remarks to an audience of science-fair participants, mentors, educators, and leaders in government, philanthropy, and the private sector, President Obama praised these extraordinary students:
"These young scientists and engineers teach us … how to question assumptions; to wonder why something is the way it is, and how we can make it better," the President said. "And they remind us that there's always something more to learn, and to try, and to discover, and to imagine — and that it's never too early, or too late to create or discover something new."
President Obama went on to describe how science shapes our world-view:
"That's why we love science. It's more than a school subject, or the periodic table, or the properties of waves. It is an approach to the world, a critical way to understand and explore and engage with the world, and then have the capacity to change that world, and to share this accumulated knowledge. It's a mindset that says we that can use reason and logic and honest inquiry to reach new conclusions and solve big problems."
All told, the steps launched today bring the Administration's grand total up to $1 billion in commitments and in-kind support to advance the President's Educate to Innovate campaign, which aims to inspire more girls and boys to excel in STEM subjects.
To highlight the theme of this year's science fair — Diversity and Inclusion in STEM — Administration leaders hosted two roundtable discussions in which students shared stories about opportunities and challenges they face in STEM studies.
It was a whirlwind day for science and engineering at the White House! Geeks descended upon 1600 Pennsylvania with children's displays filling rooms and halls from the State Dining room to the East Garden, and showcasing more discoveries, inventions, and bright ideas than ever before.
The President added, "We can't wait to keep track of where these incredible young innovators go next!"