SALT LAKE CITY, Utah, July 18, 2020 (Bill's Marketplace/Gephardt Daily/Sponsored) — John Holland opens the door to his brand new office just as the first rays of sunlight fill the morning sky — a ball of keys in one hand, a thermos in the other, a brown bag lunch — including a note from doting wife, Crystal — tucked beneath his chin.
"You know, what I really, really like?" John asked, pausing slightly to read the note, an ever-so-slight smile crossing his lips, "I like opening the doors to my own shop and doing it at the crack of dawn. Turning the lock, turning on the lights, putting the 'Open for Business' sign in the front door. Nothing better than to get the jump on another business day.
"Now, technically, we're always open," John said with a chuckle. "Our crews are on call or in the field 24 hours a day. That comes with the turf when you're an essential business, which we are, and that means we are ready to roll virtually anytime of the day or night, which we do.
"Why are we considered essential? Try living without indoor plumbing for a week and you'll get the idea. Let's face it, not many people call plumbers or furnace and air conditioning experts in the middle of the night because great things are happening and they just want to chat," said John, laughing. "They've got problems and a backed-up sewer, an overflowing toilet or a malfunctioning furnace aren't the kind of repairs you can put off. People need someone they can rely on,  especially now. They need someone who is trained, licensed, dedicated to their craft and finishing the task at hand.
"That's where we step up at All Utah Plumbing, Heating and Air, where we like to say, 'Integrity is our watchword and the truth is our native tongue.' Yeah, it's kind of corny, but we actually mean it.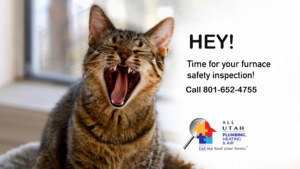 "Simply put, we are experts in maintaining a healthy home environment. We deep clean every surface we come in contact with using mild, yet highly effective, EPA approved cleansers, including Lysol. We have always worn gloves and footies, and even face-coverings when the situation called for it. It's actually something we've been doing for years.
"It's been those kind of touches that put clients at ease and have kept us growing. Now that things are bit crazy out there, people are turning to us as a simple matter of trust. That's why he have a new shop, a new truck and new hires.
"Whether we are making an emergency plumbing repair in the wee hours of the night or installing a new furnace or air conditioning unit, my team of professionals — and that's what we truly are, a team of professionals — come prepared, providing our clients with a full slate of services, all of which can be essential to maintaining a safe and healthy home.
"If you have a job that needs immediate attention, or if you're finally deciding the time is right to renovate that kitchen or bathroom, give us a call at 801-652-4755 or follow the link to our website.
*All Utah Plumbing, Heating & Air is a sponsor of Bill's Marketplace, The Bill Gephardt Show Podcast, The Gephardt Business Directory and Gephardt Approved.