SALT LAKE CITY, Utah, Aug. 4, 2021 (Gephardt Daily/Bill's Marketplace/Sponsored) — During all their years in business, Will and Amy Wilson, owners of Snider Bros. Meats in Salt Lake City, have prided themselves on leaving customers smiling with their top quality meats, sandwiches and tasty lunch items, flavorful seasonings and sauces, and a wide variety of signature dishes ready for shoppers to choose from and take home.
"We always base our business on service, selection and quality, and we have always tried to provide the best shopping experience possible," Will said. "Our goal was they were going to be so impressed with this service and they will not be able to go anywhere else."
So the Wilsons were astonished one day to spot a return customer who was clearly beside herself.
"We had an older lady who came in and she was just so sad," Amy recalled. "She was asking, 'Can you help me out? Can you help me out?'"
It seems the woman had been in previously to buy a savory quiche to serve to friends.
"She said she told everyone at her breakfast club she made it herself," Amy recalled. "Everybody just kept going on and on about how good it was, and she kind of went along with it, you know, and everybody was asking for her quiche recipe."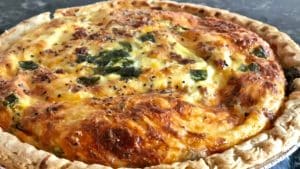 Caught in a bit of a bind, the customer had come to beg for the recipe. The couple did their best to put the woman at ease and cut an oversized household size before sending the woman home with "her" special recipe.
It was just one of a million favorite, funny, memories Will and Amy have after taking care of their customers, many who have been coming to them for years.
A passion for excellence
Building Snider Bros. Meats to its current status has always been hard work, but foremost a labor of love.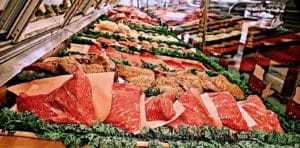 "We had a certain passion and a vision of where we wanted the business to go, you know in the first 25 years, and I think we were very successful in getting there," Will said.
In an era of big-box, one-stop shopping, Snider Bros. has built an enormous and still growing clientele of loyal shoppers who who want the best cuts of beef, pork, ham, poultry available on a daily basis, along with party trays to make entertaining easy.
Sniders is also the place to go for dinner time showstoppers, including boneless prime rib, pork crown roast, leg of lamb and turducken.
Will has worked his whole career as a butcher, and laughs at the story of when he met his future wife at a meat market, the family owned store in Ogden. The first time Amy came in and Will laid eyes on her, he he nicked his finger with a knife. Then she came in again, and he cut himself once again.
"Grandpa told me I'd better ask her out, before I lost all my fingers," Will recalled, with a laugh.
Will and Amy married the next year, and went on to have five children, including triplets.
Will was about 30 when he and Amy decided to start their own business in the Salt Lake Valley. He studied business principles, and managed to secure a small loan. The couple worked on their new location, a former toy store, doing almost all the work themselves. They had no money to advertise.
"We were always the extra stop, so we had to make sure it was worth it," Will said. "You know how they say the best businesses grow slowly? Well, ours grew at a snail's pace."
It took Snider Bros. Meats at least three years to start to catch on, with early shoppers inviting friends to dinner, then the diners becoming new customers. Will says he used to pray every night as he drove home, thanking the Lord for the customers who came in, and asking for a few more for tomorrow. Amy remembers the early years, when money for diapers and food was scarce. Some months, it took a miracle to keep the family afloat.
"One time it was crazy, because the only way we were able to make a house payment was because our cat had kittens," she said, with a laugh.
The cat was a fairly rare breed, a Scottish Fold, in which some kittens are born with "folded" ears, a coveted trait. Amy said litters usually had one or two kittens with folded ears, but right when the Wilsons needed a miracle, a full little of five kittens was born with folded ears.
"So that meant that they were $375, apiece to sell, which actually paid the house payment," she said. "And we've had all sorts of things like that, little miracles that you would never believe would happen."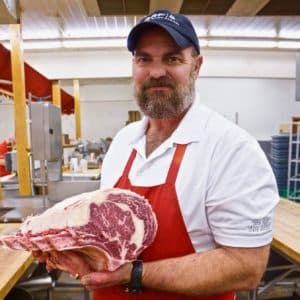 Thriving
Those first few hard years are a distant memories now, and more recent decades have found the Wilsons expanding into a greater variety of food offerings, barbecue classes and demonstrations, providing recipes on their website, bringing some of their children into the business, and and always increasing their fan base.
They have regular customers who feel like family, old clients who have moved away, but stop by for sandwiches as travel allows, and new clients who, during the pandemic, have discovered the value of cooking at home, providing top quality meals for friends and loved ones.
Will, who first started working in a store at age 11, is proud of his status as a fifth-generation market owner, a tradition started by "Pappy" Snider around 1900.
Pappy, known in Wilson and Snider family lore as an irrepressible character of dubious judgement, began his career by rustling cattle to sell, a hanging offense, then then being banned from Texas by the ranchers his father-in-law paid off to spare his life.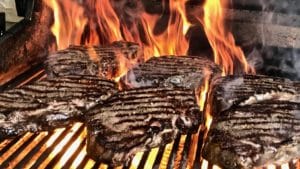 Pappy would go on to establish a number of food markets in the northwest, and would father children who would be the first in a small legion of reputable store owners in the generations that followed.
Will and Amy love to share the colorful stories of Pappy and his exploits, but on a personal level, they are more proud of what their children are bringing to the business.
"Now we have the sixth generation coming on, and they have the same passion, and a vision of where they want to take the business next," he said. "They're very innovative in this next generation. So there are exciting years ahead for Snider Bros. Meats, for our family and for our customers."
To order on line click here. Or call 801-272-6409.
Snider Bros. Meats is a sponsor of Bill's Marketplace, Gephardt Daily, The Gephardt Local Business Directory and Gephardt Approved.