[hdplay id=354]
DALLAS, Nov. 11 (UPI) — An NFL player who was convicted of domestic violence charges last year claimed he is a victim of discrimination.
Greg Hardy, a defensive end for the Dallas Cowboys, posted that he was "Innocent until proven guilty-lack of knowledge & information is just ignorance-the unjust/prejudicial treatment of diff categories of people is discrimination," in his Twitter account bio.
Hardy also changed his name on the account to "Perfection."
Hardy used the account @OverlordKaraken to post the message. Shortly after the change, Hardy took the bio down and changed it to: "Come with me Hail Mary Run quick see What do we have here now wana be my ride or die La la la la la la (SuperBlockParty)."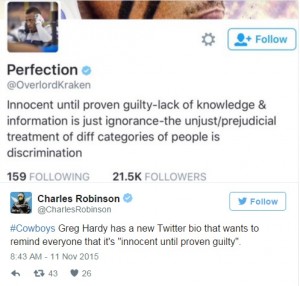 Hardy then changed his name on Twitter to "Machiavelli Kraken."
Last Friday, Deadspin released dozens of photos, showing bruises all over then-girlfriend Nicole Holder's body.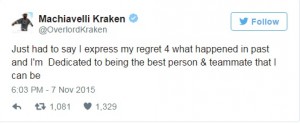 The next day, Hardy tweeted that he "Just had to say I express my regret 4 what happened in past and I'm Dedicated to being the best person & teammate that I can be."
A year and a half ago, Hardy was charged and arrested for attacking and threatening Holder, while a member of the Carolina Panthers.
"(Hardy) dragged (Holder) out by her hair and picked her up again, she said, throwing her onto the futon, which had several weapons—what she described as "guns from … the Army or … I mean like from video games"—on it. She landed on top of the rifles and then fell onto the floor. In her telling, he stood above her and strangled her with both his hands. She would later tell Detective Faye Strother that she thought she was going to die. "His pupils were tiny," she said. "I mean he looked … crazy," Deadspin reported.
Last year, Hardy was convicted on domestic violence charges in a bench trial, but appealed for a jury trial. The right of appeal for a jury trial after being convicted of a crime is afforded under North Carolina state law.
The trial was thrown out in February, when Holder stopped cooperating with authorities. Hardy had the charges expunged from his record earlier this month, according to the Charlotte Observer.
Hardy returned to the NFL on Oct. 11, after a 10 game league suspension was reduced to four games. A flurry of feedback has flowed from around the league, including from Cowboys owner Jerry Jones, who called Hardy a "real leader" on the team, according to NJ.com.
Hardy erupted into a tirade against teammates and coaches in the Cowboys' Oct. 25 27-20 loss to the New York Giants.
Cowboys legend Roger Staubach said that while he does cheer for the team, it is "difficult to cheer for someone accused of what he's been accused of," according to ESPN.
"I don't have any tolerance toward domestic violence," Staubach told KTCK-AM 1310 in May. "If I was making the decision, it probably wouldn't have been good for the Cowboys."
"I wouldn't really enjoy being in the locker room with someone I knew was a domestic violence person," Staubach told KTCK-AM 1310.
"I would have really had a hard time with a teammate that you look at as a courageous, tough guy on the football field … to abuse a woman in any shape or form, there's just no excuse for it."
Hardy, 27, has 10 tackles, four sacks and a forced fumble for the 2-6 Cowboys.