Discovery Channel Burns Pittsburgh Penguins
PITTSBURGH, May 14 (UPI) — There is nothing controversial about a photo of penguins frolicking around a giant mound of ice, but leave it to an NHL hockey team to escalate the situation.
After the Discovery Channel tweeted a picture with the caption "On average, emperor penguins grow to be 3.8 feet tall," the Pittsburgh Penguins chimed in.
But even though the hockey team is seated at home and not still fighting for the Stanley Cup, it is still getting board checked.
The Penguins replied with a tweet, saying "@Discovery As of May 13, 2015, the average Pittsburgh Penguin grows to be 6'1″."
Then came the burn, from the Discovery Channel.
"@penguins Strange. Our latest observations show no Penguin activity currently on ice in Pittsburgh. Where did they go?"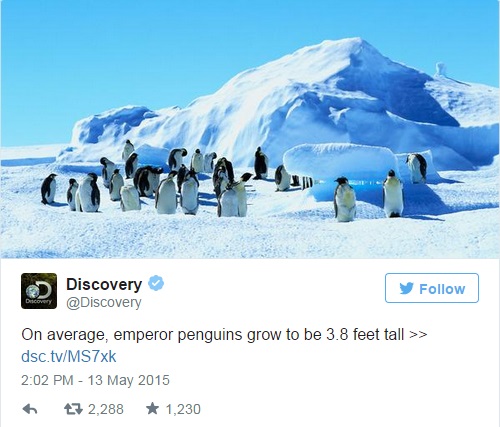 The New York Rangers eliminated the Penguins in Game 5 of the Eastern Conference Second Round at Madison Square Garden. The Penguins finished the season 43-27-12.