NEW ORLEANS, Nov. 9 (UPI) — Tension skyrocketed in the New Orleans Saints' locker room following Sunday's 34-28 loss to the Tennessee Titans.
Saints cornerback Brandon Browner reportedly went off on WWL TV's Lyons Yellin after the game, following Yellin's question about a defensive blunder.
After Yellin asked Jairus Byrd about a collision with Keenan Lewis, which turned into a 65-yard Delanie Walker touchdown reception, Browner interjected, saying the game was "more than that one play."
"Atlanta Falcons at New Orleans Saints">Browner felt the game was more than that one play, that I should have focused on the fact the Saints took the hapless Titans to overtime," Yellin explained in a column for WWL TV. "This he explained to me with a few choice words."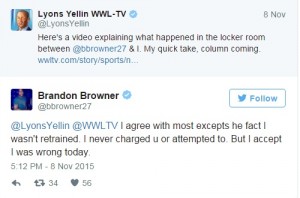 Yellin said he then asked Browner about the rest of the game, but more questions "sent him over the top." Teammate Mike McGlynn and Saints public relations staff "hustled him out of the locker room," according to Yellin.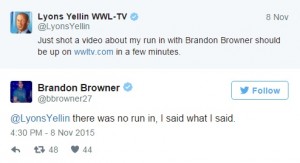 Browner leads the league with 17 penalties this season. He also lashed out at a reporter after the Saints' loss Oct. 11, according to the New Orleans Times-Picayune. The newspaper also reported that Browner "used a crude term refer to on reporter."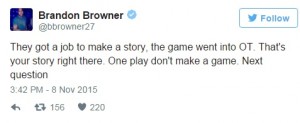 After Yellin posted a video on the WWL TV website, Browner responded: "@LyonsYellin @WWLTV I agree with most excepts he fact I wasn't retrained. I never charged u or attempted to. But I accept I was wrong today."

Browner also tweeted: "They got a job to make a story, the game went into OT. That's your story right there. One play don't make a game. Next question."
The cornerback denied a "run-in."