SAN FRANCISCO, Nov. 2 (UPI) — After a video surfaced of San Francisco 49ers QB Colin Kaepernick failing to notice wide-open wide receivers, news broke that teammates want him benched.
Kaepernick, 27, has completed 815-of-1,360 passes for 10,030 yards, 56 touchdowns and 26 interceptions in his career. This season, Kaepernick has tossed just six touchdowns against five interceptions. The 49ers are 2-6 this season, after a 27-6 loss Sunday to the St. Louis Rams.
After the game, multiple 49ers told Bleacher Report's Jason Cole that they wanted the young quarterback benched.
"Two 49ers players texted me and said after this game that it is time for Colin Kaepernick to be benched," Cole said. "This game lost to the Rams was the tipping point in a series of events that have been building and building and building to this point."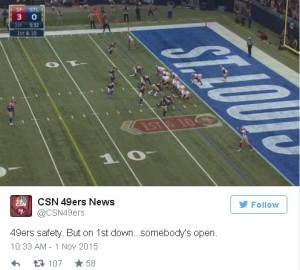 During the game, Kaepernick was caught on video as he failed to notice an uncovered Torrey Smith at the line of scrimmage. Smith waived his arms at Kaepernick, but did not get his attention, as the 49ers called a modestly successful running play.