Report: Tiger Cheated on Vonn
SAN DIEGO, May 12 (UPI) —
Has
Tiger
 changed his stripes? Not according to an exclusive report from
the Daily Mail
.
After Woods split with girlfriend Linsey Vonn more than a week ago, a close friend revealed that Woods cheated on Vonn with a "faceless, nameless woman," according to the Daily Mail.
Vonn, an Olympic skier explained in a Facebook post that "both lead incredibly hectic lives that force us to spend a majority of our time apart."
"He had a relapse in the sex department," the source told the Daily Mail. "Lindsey found out about women again. Always while he's on the road. Just like when he was with Elin."
Woods and Elin Nordegrin divorced after Nordegrin found out Woods cheated on her in 2009 with dozens of women.
"He withdrew from Farmer's," the source reportedly said. "You have to understand, while it's not right, it's not really wrong either. Tiger isn't married. He doesn't really drink or do drugs. So what else does he have when he can't afford to lose again? He is allowed to find some relief."
"Most men would drink over such losses. Tiger has sex over it. Usually with local hookers whom he pays exorbitant amounts to, probably so they will want repeat business and won't tell."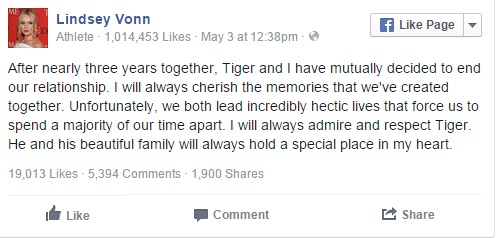 The alleged incident happened following Woods' elimination from the Farmers Insurance Open in February in San Diego, according to the source.
"Yes, Tiger cheated again. But it wasn't with anyone special," the friend told the Daily Mail. "He really wanted Lindsey to be the one. But he blew it again. He can't help himself. He's got an addiction. He relapsed. Knowing Tiger, he doesn't even see it as cheating because there's no romance or feeling there. It's just a stress reliever, like a high-ball or two after a bad day."
Woods withdrew from the Farmers Insurance Open on Feb. 5, following an injury.
Woods and Vonn were together for almost three years.