WEST PALM BEACH, Fla., May 8 (UPI) — A 21-year-old running back for the University of Alabama is in critical condition after being shot while driving on Interstate 95 in South Florida.
Greg Bryant Jr., a Notre Dame transfer, is at St. Mary's Medical Center in West Palm Beach. Several media outlets reported he died, but UAB Blazers head coach Bill Clark said he remains in critical condition.
Bryant and a passenger, 25-year-old Maurice Grover, were found shot in a stopped car on I-95, police told CBS 12. Grover was taken to the hospital for minor injuries.
The incident prompted West Palm Beach police to shut down the soutbound lanes of the interstate from 5 a.m. to 7 a.m. They were reopened at 8 a.m. Investigators are seeking witnesses to the shooting.
A graduate of Delray Beach's American Heritage high school, Bryant had been recruited to start at Notre Dame but was later ruled "academically ineligible" to play for the Fighting Irish, according to ESPN. He was picked up by UAB in November.
A football coach from American Heritage tweeted from the hospital the athlete is still alive and "fighting" for his life.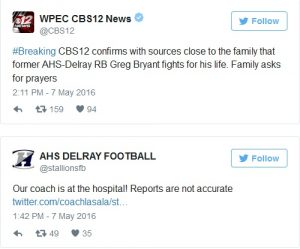 ESPN has indicated that Bryant was declared brain dead Sunday.