President Donald Trump and the first lady, Melania, made a 29-minute appearance at the Congressional Ball at the White House on Saturday night, describing the White House as a "happy place."
President Donald Trump on Saturday made an unscheduled appearance at Arlington National Cemetery to observe wreaths laid to honor fallen military veterans.
[td_block_social_counter custom_title="STAY CONNECTED" facebook="envato" twitter="envato" youtube="envato"]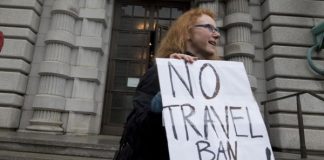 The U.S. Fourth Circuit Court of Appeals on Thursday upheld a lower court ruling that blocked the implementation of President Donald Trump's so-called "travel ban."