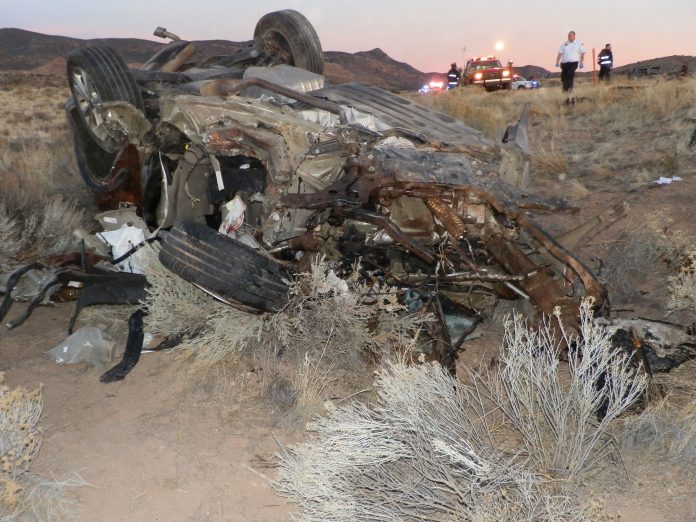 IRON COUNTY, Utah, Nov. 25, 2017 (Gephardt Daily) — Five people were killed in a head-on collision Saturday afternoon near New Castle.
Utah Highway Patrol reported that the crash occurred at 4:30 p.m. on State Route 56 at mile marker 33, which is a mile outside of New Castle.
According to a UHP news release, a Chevy Suburban, driven by Fernando Ruiz, 19, out of Cedar City, was traveling eastbound on State Route 56. Ruiz was the Suburban's only occupant.
A Ford Escape, driven by 58-year-old Jesus Jimenez-Lopez, and occupied by 57-year-old Lydia Jimenez, 60-year-old Jose Jimenez, and 19-year-old Juan Antonio Jimenez Sanchez, was traveling westbound on SR-56.
For some unknown reason, at mile marker 33, the Suburban crossed into the westbound lane, hitting the Escape head on, the release states.
The Escape traveled off the road to the right, rolling on its top, while the Suburban continued straight on the road.
As the Suburban came to rest, it burst into flames.
All occupants in both vehicles died on scene.