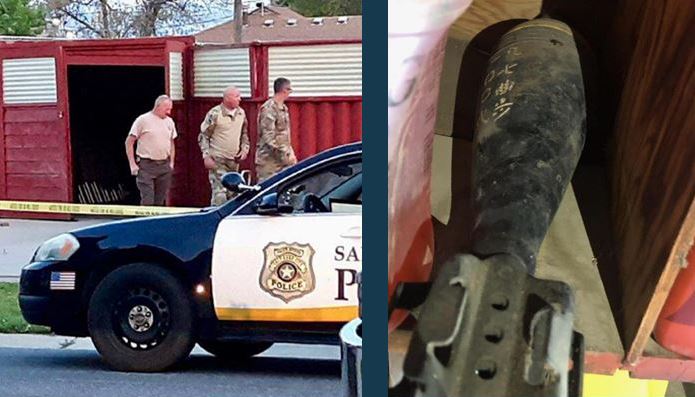 SALT LAKE CITY, Utah, May 4, 2019 (Gephardt Daily) — Explosives experts with SLCPD and the Utah Air National Guard were dispatched to a Salt Lake City home Saturday after the owner discovered what appeared to be a couple of World War II era explosive devices.
Sgt. Carlos Valencia with the Salt Lake City Police Department said the bomb technicians examined two devices on the property, one in the garage and one under a coffee table inside the home.
The device inside the garage had a "form of Japanese writing on it," Valencia said.
Bomb techs examined, then removed the device in the garage, which looked like a mortar round or a rocket propelled grenade.
The second device, which Valencia said was different from the first, was retrieved from inside the home.
As the incident unfolded, the Utah National Guard tweeted that, as of 8:20 p.m., they had dispatched three highly trained explosives ordnance disposal personnel and a vehicle in support of SLCPD.
About an hour later explosive experts determined both devices were harmless. They did not reveal if the devices were authentic military armaments.
Whenever @slcpd calls: pic.twitter.com/tIxQ7dwSii

— Utah National Guard (@UTNationalGuard) May 5, 2019