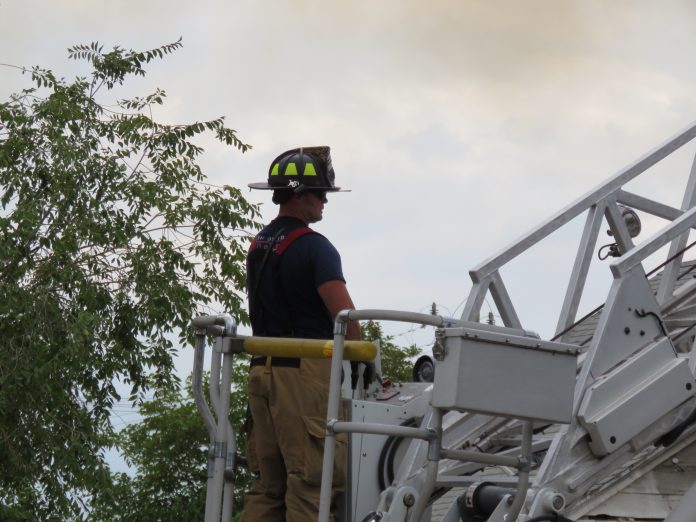 WOODS CROSS, Utah, Aug. 9, 2016 (Gephardt Daily) — A three-alarm hay barn fire in Woods Cross, which caused $500,000 in damages Friday, has been determined accidental, officials said Tuesday.
South Davis Metro Fire Chief Jeff Bassett said in a news release the department was dispatched just after 2:30 p.m. Friday to 911 S. Redwood Road, Woods Cross, on reports of a barn and house that ignited.
Bassett said first arriving fire units reported the roof of the home was on fire, as well as the barn. The roof area of the home was quickly extinguished. The fire did not get into the inside of the home and the roof damage was minimal.
"The barn on fire contained 40 tons of hay and straw and is a total loss, structure and content," Bassett said in a news release. "Additionally, two semi-trailers, a passenger van, and a front end loader were burned.
"The workers of the farm were offloading straw off a flatbed trailer located at the northwest section of the barn. They were using a front end loader to offload the straw from the trailer into the barn.
"As they were doing this, one bale of straw was lifted up, workers noticed it was smoking, they continued to lift the bale up and the twine holding the straw together broke, causing the bale to break. Once the break occurred, and air was introduced into the smoldering bale, there was an immediate fire to the bale.
"Some of the broken straw went under the front end loader; the rest fell at the base of the barn, igniting a large quantity of hay and straw. This immediately spread to the inside of the barn, and the entire barn and the front-end loader was engulfed in fire.
"This fire is accidental in nature."
Thirty-three firefighters from South Davis Metro Fire, Salt Lake City, West Valley City, Farmington City, Kaysville City, Layton City and Sunset City responded to this incident.
Rocky Mountain Power and Questar Gas were also on scene to deal with the downed power lines and a broken gas line.
Parts of Redwood Road were shut down while crews battled the blaze, but the road was reopened entirely Saturday morning.
There were no injuries to people, and cattle in the barn and general area of the fire were corralled and moved to a safe location.