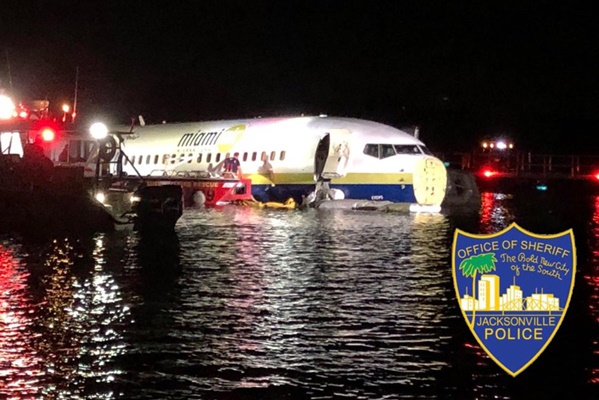 For an updated story, click here.
JACKSONVILLE, Fla., May 3, 2019 (Gephardt Daily) — Reports are coming from Jacksonville, Florida, late Friday that a commercial jet flying to Naval Air Station Jacksonville has gone into the St. Johns River.
The aircraft skidded off the airport runway as it was attempting to land at NAS Jacksonville.
There were 136 to 140 people on board, and everyone has been accounted for, according to the Jacksonville Police Department. Everyone is alive and any injuries are minor, it was reported.
The plane is in shallow water and was not submerged.
It is likely the plane was carrying members of the military heading to the naval air station.
The plane is a Boeing 737, the same type of aircraft that was involved in the Lion Air crash in October 2018 and an Ethiopian Airlines crash in March 2019.
It isn't known yet what caused the plane to skid off the runway into the river, but the area has been experiencing severe weather, which may have been a factor.
Later Friday night, the Jacksonville Sheriff's Office tweeted:
Gephart Daily will update this developing story as more information becomes available.