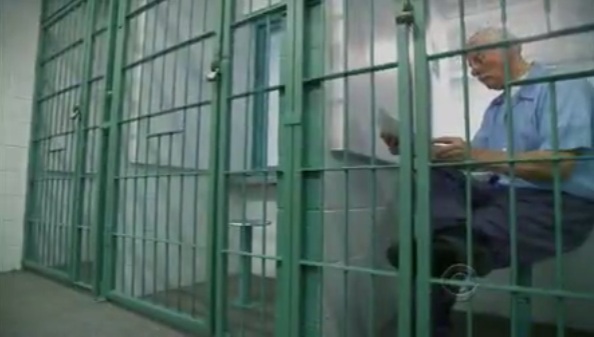 SYCAMORE, Ill., March 25 (UPI) — An Illinois prosecutor announced Friday that newly-obtained evidence has proven that the man convicted four years ago of abducting and killing a 7-year-old girl in 1957 couldn't possibly have pulled off the crime.
DeKalb County State's Attorney Richard Schmack said the man held legally responsible for the murder, Jack D. McCullough, was wrongly convicted in 2012, in what was perhaps the biggest cold case trial in American history.
"I know that there are people who will never believe that he is not responsible for the crime," Schmack said Friday. "Many of these people are my neighbors … But I cannot allow that to sway me from my sworn duty."
Former DeKalb County State's Attorney Clay Campbell, who left office after losing to Schmack in 2012, was responsible for prosecuting McCullough.
McCullough, now 76, was arrested in 2011 and tried for the murder of Maria Ridulph, whose body was found on April 26, 1958 — nearly five months after she disappeared from her Sycamore home. At the time, McCullough's name was John Tessier.
After the girl's murder, he joined the military, changed his name and ultimately became a police officer.
Prosecutors argued at trial that McCullough, 17 at the time, lived with his parents near the location where Maria was last seen alive. Schmack, however, said a piece of new evidence and a review of the trial present serious problems with the prosecution's case.
He said newly subpoenaed telephone records, for example, indicate that McCullough was at a pay phone in the town of Rockford — nearly 50 miles away from the abduction site on Dec. 3, 1957 — around the time of Ridulph's disappearance.
A judicial review, Schmack said, also exposed concerns regarding a photo lineup shown by police to Ridulph's friend, as well as numerous police documents not introduced at trial that point to McCullough's innocence. He said the review also found significant inconsistencies with testimony from the girl's friend and sister.
That friend, Schmack noted, claimed she spotted McCullough on a street corner in the area Ridulph disappeared that evening — despite the fact that it was dark outside and there were no streetlights..
"We finally got someone to take a look at it who understood some of the geography. It's an interesting, welcome conclusion," McCullough said Friday.
McCullough was questioned by police in 1957 but cleared as a suspect.
"I truly wish that this crime had really been solved, and her true killer were incarcerated for life," Schmack added. "When I began this lengthy review, I had expected to find some reliable evidence that the right man had been convicted. No such evidence could be discovered."
Ridulph's family, though, isn't so sure that the cited discrepancies amount to much at all, let alone McCullough's innocence.
"We've met with [Schmack] two times in the last six months and they have not been good meetings," Charles Ridulph, Maria's brother, said. "He's been working with the defense attorney almost from the start and he's made no qualms about it."
It's unclear what action might be taken in the case. McCullough's public defender has said he plans to file a motion Tuesday to have the conviction overturned. Schmack said Friday that if that happens, he will not oppose it — meaning McCullough could be released from prison.
The Illinois State Police reaffirmed its belief that McCullough is guilty of Ridulph's murder — a conviction, they add, that was also upheld by a state appellate court.
After his conviction, McCullough was sentenced to serve the remainder of his natural life in prison.