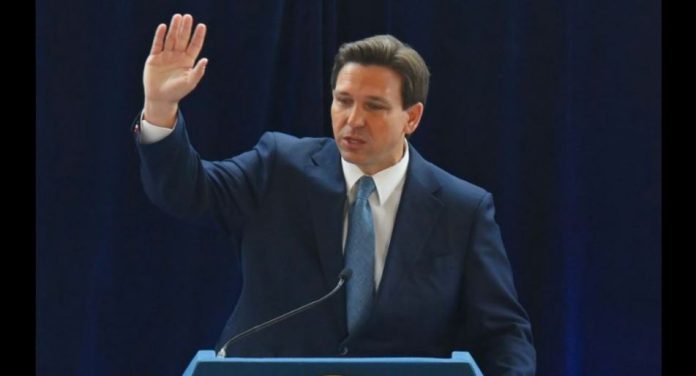 May 24 (UPI) — Twitter owner Elon Musk's live interview with Ron DeSantis on Wednesday got off to a rocky start marred with technical issues as the Florida governor announced that he will run for president.
During the social-media event, Musk was to ask DeSantis "unscripted" questions live-streamed on Twitter Spaces, a feature that supports live audio interviews on iOS, Android and web browsers. A Twitter account is required to listen to event.
However, many would-be listeners were left watching the "Space" stuck preparing to launch. For those who were able to listen in, they heard very little. The audio in the interview dropped out at least five times in the first six minutes.
While the audio was working, Musk was talking about technical issues caused by the number of Twitter users online at the time. The listener count volleyed about 550,000 to 592,000.
The audio recording ended after 21 minutes of dropouts. Musk, DeSantis and moderator David Sacks then made Sacks' Twitter page the host, which worked, mostly. Musk remarked that hosting from his page appeared to have "broken Twitter."
"I am running for president of the United States to lead our great American comeback," DeSantis said.
DeSantis said he chose to make his announcement on Twitter as opposed to cable television to separate himself from the pack.
DeSantis touted keeping Florida "open" during the COVID-19, and alleged that President Joe Biden has submitted to "pharmaceutical authoritarianism." He lauded Musk for being a "free speech advocate" and allowing "the truth" to be discussed about the coronavirus. To that, Musk said Twitter was expensive, but "free speech is priceless."
The governor expressed confidence in his ability to win the presidency if nominated, telling voters that they can set their clocks to his inauguration on Jan. 20, 2025. Then, the audio again dropped out momentarily.
DeSantis, using a phrase often used by Musk, said America must be freed from the "woke mind virus," urging that the country must move away from identity politics and "restore sanity."
Moments before the original 6 p.m. EST start time, DeSantis posted a video online announcing his candidacy.