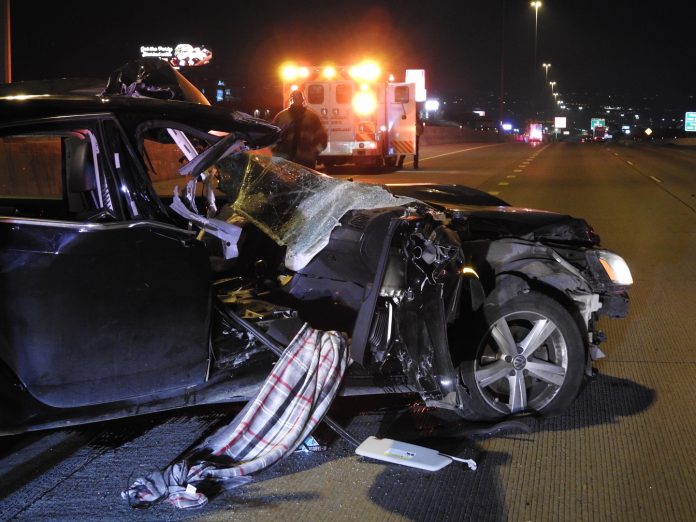 SOUTH JORDAN, Utah, Dec. 1, 2017 (Gephardt Daily) — A woman was critically injured Friday morning when a car she was riding in struck the back of a semi in South Jordan.
The car was speeding southbound on Interstate 15 near 11400 South at about 3:30 a.m., when it hit the back of the semi, Utah Highway Patrol Sgt. Brent Shelby said. An off-duty Murray Police officer came upon the crash and reported it.
The woman suffered a partial amputation of one leg.
"Three people were inside the car," Shelby said. "The woman was taken to Intermountain Medical Center in critical condition. The man driving was transported with minor injuries, and an infant inside the car was not injured, but was taken to a hospital as a precaution."
After striking the back of the semi at a speed high enough to do significant damage, the car veered to the left, across all lanes of traffic, and hit a barrier on the left, Shelby said.
"It (the car) was going considerably faster than the semi, which was traveling at normal freeway speeds," Shelby said at the scene.
"Once you get into those upper speeds, speed's what causes those serious injuries and these crashes. The faster you're going, the more likely it is you're going to be injured or killed. That's what we're looking at right here, right now. If the speeds had been less, we probably would have had more minor injuries that we're dealing with here."
The semi driver was unhurt, and was cooperating with officers.
Shelby said drowsiness and impairment were also being considered as possible factors. Evidence found inside the car supported a theory of impairment, he said.