Egypt Hangs Six Men Convicted in Trial Condemned by Rights Groups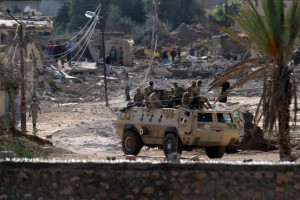 CAIRO, May 17 (UPI) — Six alleged members of the Sinai Province militant group, convicted of carrying out an attack in 2014 that killed two soldiers, were hanged in Egypt Sunday.
Human rights groups previously urged a retrial for the men, stating the legal process was faulty and that three of the men convicted were already in custody and could not have carried out the attack on the Arab Sharkas village in north Cairo.
"According to the National Security Agency's investigations and the case file seen by Amnesty International, the security forces arrested the men in Arab Sharkas village, North of Cairo after raiding a warehouse on 19 March 2014," Amnesty International said in a statement. "This contradicts the accounts of the security forces that raided the warehouse who stated they had killed six men in the warehouse and left no one alive. The six men's lawyers and families have told Amnesty International that the dates and places of arrest were falsified in the case file."
Human Rights Watch previously echoed a similar sentiment.
"Egypt's courts have routinely abandoned due process, but if these executions go ahead it will represent an egregious new low," Sarah Leah Whitson, Middle East and North Africa director of Human Rights Watch, said in a statement. "Civilians should never face trial before military courts or face execution as a result."
Sinai Province previously pledged allegiance to the Islamic State and frequently carries out attacks including suicide bombings, assassinations and beheadings.
At least 15 soldiers and two civilians were killed in Egypt's Sinai Peninsula after Sinai Province militants opened fire on military checkpoints on April 2.