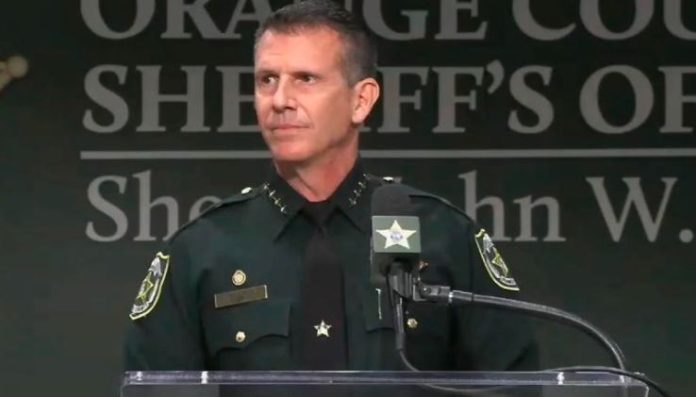 Feb. 23 (UPI) — A gunman opened fire Wednesday on a television news crew, which was covering an earlier homicide in Orlando, killing a TV news reporter and a 9-year-old at a nearby home, according to the Orange County Sheriff's Office.
The reporter's photographer and the mother of the child were also shot and are in critical condition.
Sheriff's deputies identified the gunman as Keith Melvin Moses, 19, who was taken into custody Wednesday evening. Moses is also the suspect in the shooting death of a 20-year-old woman at the same location Wednesday morning.
According to the sheriff's office, Moses "is being formally charged in the murder from this morning, and we expect additional charges for the shootings of the four people this afternoon."
The parent company of Spectrum News 13, where the reporter and photographer worked, released a statement Wednesday night that did not identify the victims.
"We are deeply saddened by the loss of our colleague and the other lives senselessly taken today," Charter Communications said. "Our thoughts are with our employee's family, friends and co-workers during this very difficult time. We remain hopeful that our other colleague who was injured makes a full recovery."
"This is a sad day for our community," the sheriff's office added in a tweet that showed Moses following his arrest. "Three were murdered today, including a woman in her 20s, a 9-year-old girl and a News 13 employee."
This is 19-year-old Keith Melvin Moses, the suspect in a series of shootings today that left three dead, in OCSO custody. This is a sad day for our community. Three were murdered today, including a woman in her 20s, a 9-year-old girl and a @MyNews13 employee. pic.twitter.com/DXXkxzRHl5

— Orange County Sheriff's Office (@OrangeCoSheriff) February 23, 2023
"At 19, he has a lengthy criminal history, to include gun charges, aggravated battery and assault with a deadly weapon, burglary and grand theft charges," Orange County Sheriff John Mina told reporters in a briefing Wednesday.
Mina said investigators are looking into whether the news crew was targeted.
"Moses was an acquaintance of the woman this morning, but as far as we know, he had no connection to the reporters and no connection to the mother and the 9-year-old," Mina added.
Mina also said it was unclear whether the gunman knew that the reporter and photographer inside the vehicle were journalists, saying their vehicle "doesn't really look like a news vehicle to me."
"No one in our community — not a mother, not a 9-year-old and certainly not news professionals — should become the victim of gun violence in our community," Mina said.
The sheriff reported the suspect shot the 20-year-old woman at 11 a.m. Wednesday "in a vehicle," before returning to the site at 4 p.m., when he shot the News 13 TV reporter and photographer who were covering the first killing.
Mina said Moses then walked into a nearby house and shot the 9-year-old girl, who died, and her mother.
"Our hearts go out to her mom, who is also fighting for her life and her father and all of her family members," Mina said. "And of course, prayers and condolences to the news media and the family and friends of these media professionals."