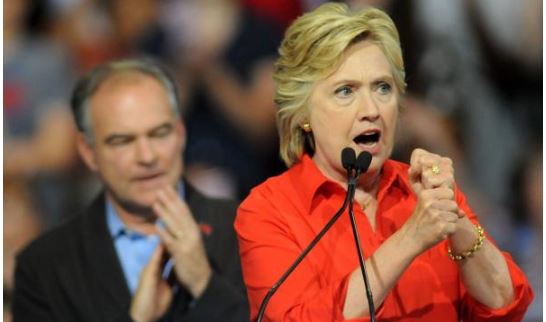 WASHINGTON, Aug. 11 (UPI) — U.S. intelligence officials said it is likely the cyberattack that allowed hackers to gain access to internal documents at the Democratic National Committee likely extended far beyond just that group, and may have included staff on Hillary Clinton's presidential campaign.
The possibility of a wider attack on Clinton and other Democratic groups, which intelligence officials have said they're nearly certain was perpetrated by the Russian government, could introduce a new level of foreign intrigue in the U.S. presidential election.
Intelligence officials speaking anonymously told The New York Times they have cautioned lawmakers on the House and Senate intelligence committees they don't know what the hackers' motives were: a rather routine attempt at an online information dragnet or hacking Democrats with the express purpose of tipping the election to Republican Donald Trump.
Democrats and Republicans alike were highly critical of remarks Trump made three weeks ago, when he appeared to encourage the Russians to hack Clinton and release their findings. Trump later said the comment was meant in jest.
Whether coincidental or targeted, the effect of the DNC hack has already had a profound influence on Democratic operations. Emails released by Wikileaks on the eve of the Democratic National Convention showed DNC staff members openly plotting strategy on behalf on Clinton's primary campaign against Vermont Sen. Bernie Sanders, despite the DNC's stated mission to remain neutral until after a nominee is selected.
The emails forced DNC Chair Debbie Wasserman Schultz, who had already drawn the ire of Sanders supporters for her perceived bias against him,to step down from the post along with other top staff members.
It also punctured the carefully crafted veneer of party unity Clinton's camp had hoped to project in Philadelphia, prompting periodic angry protests throughout the four-day convention by Sanders supporters armed with fresh ammunition their candidate did not get a fair shake.
The Times reported Thursday that intelligence officials and FBI investigators have begun notifying top Democratic officials on the Clinton campaign and in other groups including the Democratic Congressional Campaign Committee and potentially the Democratic Governors Association that their personal email accounts may have been hacked.
WikiLeaks founder Julian Assange has hinted he is in possession of more embarrassing or damaging emails he could release in a bid to derail Clinton's campaign. Assange has made it clear he does not support Clinton due to a range of policy and personal objections, and would relish the opportunity to damage her campaign.
House Minority Leader Nancy Pelosi likened the hack to an "electronic Watergate" and expressed certainty it was the work of Russia, trying to meddle in the U.S. election.
"I know for sure, it is the Russians. I said that at the convention two weeks ago,"Pelosi said when asked by reporters about the hack. "This is a break-in."