LOUISVILLE, Ky., Sept. 8 (UPI) — A federal judge ordered the release of Kentucky county clerk Kim Davis on Tuesday less than one week after she was found in contempt of court for refusing to issue same-sex marriage licenses.
The order, signed U.S. District Judge David Bunning, lifted the contempt sanction against Davis on the grounds that her employees are issuing marriage licenses as per the U.S. Supreme Court decision on gay marriage.
Davis' employees "stated under oath that they would comply" with the U.S. Supreme Court's decision in Obergefell v. Hodges during the summer, which legalized gay marriage nationwide. The order demands that Davis be released and that she not interfere with the issuing of licenses by her employees. It also stipulates biweekly reports documenting the clerks' compliance with the law to be filed until further notice from the Court
The legal battle over the Kentucky county clerk who has refused to issue marriage licenses also took a step deeper into the political arena Tuesday as GOP presidential candidate Mike Huckabee vowed to support the embattled clerk.
Huckabee was slated to visit Davis in jail on Tuesday and later lead an "#ImWithKim Liberty Rally" outside the Carter County Detention Center, which was expected to draw a large crowd. Five schools in the area were closed for the day in expectation of the crowds.
Huckabee contends the issue is not just about religious liberty but also whether the branches of government should be allowed to overextend their constitutional reach.
"The purpose of it is to show support for Kim and also to let the world know that it is unacceptable to put a person in jail without bail because she followed her conscience. And not only that, but she followed the only law that is in front of her," the former Arkansas governor said in an interview Monday on Fox & Friends.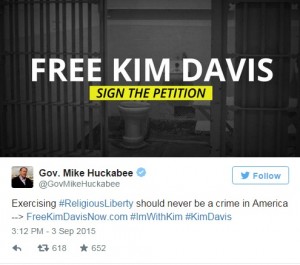 While Huckabee isn't the first presidential candidate to weigh in on the Davis situation, he is the first to plan to visit her in jail, where she was being held in contempt of court. Republican hopeful Donald Trump said Davis should follow the "law of the land," and Democratic frontrunner Hillary Clinton said, "Officials should be held to their duty to uphold the law — end of story."
Monday, Davis' legal team asked the U.S. Sixth Circuit Court of Appeals to release her from jail and "provide reasonable, sensible accommodation so she can do her job." She has been in jail since Thursday after repeatedly refusing a judge's order to begin issuing marriage licenses to all couples, gay or straight.
Davis' lawyer Mat Staver suggested Gov. Steve Beshear issue an executive order to solve the issue, but he has refused, saying the case was a "matter between her and the courts."