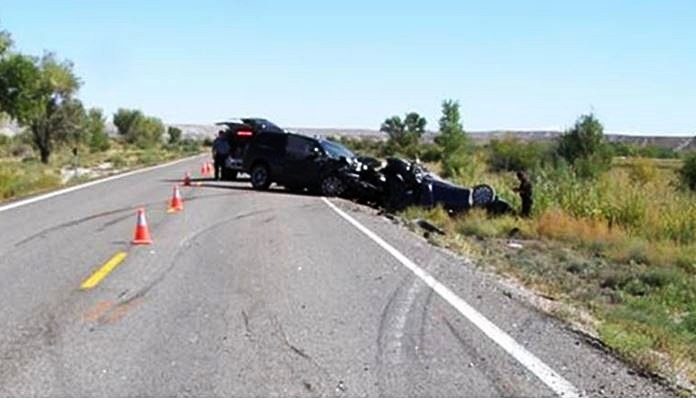 HANKSVILLE, Utah, Sept. 27, 2019 (Gephardt Daily) — A man was killed and his wife was seriously injured in a two-vehicle collision Friday in Wayne County.
The accident happened at about 10 a.m. near milepost 102 on State Route 24, about 13 miles west of Hanksville, a report from Utah Department of Public Safety says.
The man who died was driving an eastbound blue Volkswagen Jetta with his wife as a passenger, when he slowed the vehicle, almost to a stop, the statement says.
"A black Dodge Durango was driving behind it and failed to see the Jetta stopped. The Durango struck the rear end of the Jetta, causing it to roll upside down off the roadway."
The Jetta driver died at the scene. His wife was flown to St. Mary's Hospital in Grand Junction, Colorado.
The two occupants in the Durango were taken by ambulance to the Sevier Valley Regional Hospital in Richfield with minor injuries.
"No drugs or alcohol were suspected as contributors to the crash, seat belts were used," the DPS statement says.
"The two Jetta occupants were from Melbourne, Australia. The two Durango occupants were from Austria and Switzerland."
The name of the deceased has not yet been released.