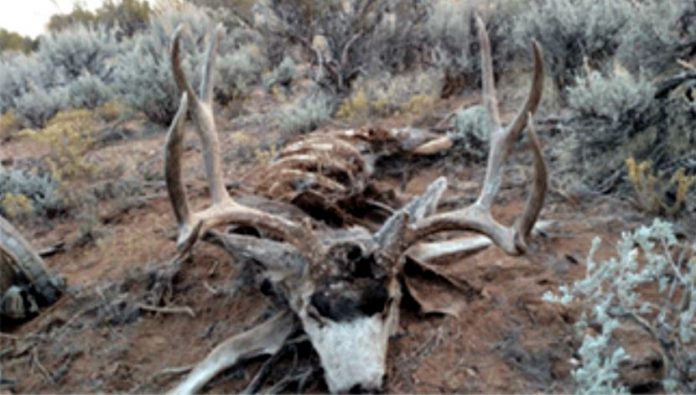 KANE COUNTY, Utah, Dec. 16, 2017 (Gephardt Daily) — Seven deer were poached and left to waste in Kane County this fall, according to Utah Division of Wildlife Resources officials.
In the first incident, near the end of October, four deer were poached and left within about 200 yards of each other, said the statement, issued by Officer Zed Broadhead.
"The deer included a doe, a fawn, a spike buck and a small two-point buck," he said. "Three of the four deer were shot at the base of the head. The fourth deer was shot in the spine."
The second incident occurred near the end of October, a few miles southeast of the first poachings.
"A four-point buck was found dead," Broadhead said. "The evidence at the scene indicated this buck was shot in the head. The buck was left to waste."
In the third incident, in early November, the remains of two bucks were found about 500 yards apart.
"Based on evidence at the scene, it appears that individuals were off-roading in the area, shooting deer and leaving them where they fell," Broadhead said. "None of the four deer were approached on foot, and no meat was harvested."
Anyone with information about the cases is asked to call the Utah Turn-in-a-Poacher (UTiP) Hotline at 800-662-3337. A reward may be available for information that leads to the identification and successful prosecution of those who poached the deer.