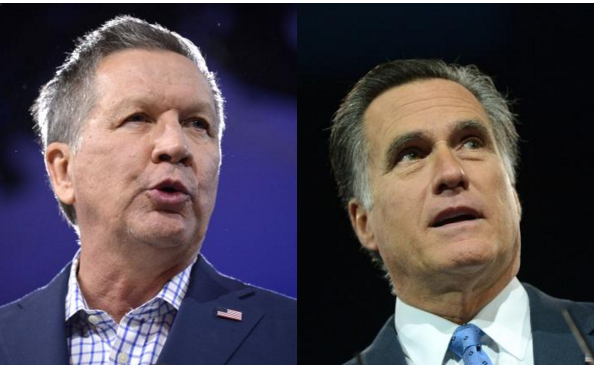 WASHINGTON, March 14 (UPI) — Mitt Romney, the former Republican presidential nominee, will campaign with Ohio Gov. John Kasich on Monday ahead of a showdown against Donald Trump in Kasich's home state primary.
Romney, who lost against President Barack Obama in 2012, is not expected to endorse Kasich, but it will be the first time Romney campaigns for a Republican candidate in this election cycle. The former governor of Massachusetts has previously recorded campaign "robocalls" for Kasich and Florida Sen. Marco Rubio.
The Ohio primary on Tuesday will result in a winner-take-all contest with 66 delegates up for grabs. Polls indicate the primary will be a close contest between Kasich and Trump.
Romney will appear with Kasich in North Canton and Westerville, which is close to Kasich's home near Columbus. Kasich previously said his campaign would be suspended if he lost in Ohio.
Earlier this month, Romney jumped into the campaign talk, saying Trump lacks the temperament needed to be president and said he is a "twisted example of evil trumping good."
"If we Republicans choose Donald Trump as our nominee, the prospect for a safe and prosperous future are greatly diminished," Romney said.
"Here's what I know: Donald Trump is a phony, a fraud. His promises are as worthless as a degree from Trump University. He's playing the American public for suckers. He gets a free ride to the White House and all we get is a lousy hat."