PHOENIX, Arizona, July 19, 2017 (Gephardt Daily) — U.S. Senator John McCain (R-Arizona) has been diagnosed with an aggressive form of brain cancer known as glioblastoma.
The grim diagnosis was first reported by CNN, which had received the McCain family's blessing before breaking the story Wednesday night.
McCain had undergone emergency surgery last Friday after doctors at the Mayo Clinic in Phoenix detected what was thought to be a blood clot above his right eye. Surgeons removed the mass, which was later determined to be malignant.
McCain's daughter Meghan confirmed the startling diagnosis in an emotional tribute to her father, which she posted on social media.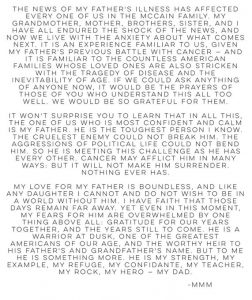 Gephardt Daily will update this story as more information becomes available.