FERGUSON, Mo., Aug. 10 (UPI) — What began as a peaceful day in Ferguson, Mo., to commemorate Michael Brown on the one-year anniversary of his death turned violent due to exchange of gunfire between an apparent assailant an police.
Police said a man unleashed a "remarkable amount of gunfire" against officers late Sunday by using an allegedly stolen handgun.
The incident began when the apparent suspect was running away from an alleged exchange of gunfire with unknown persons. Police began pursuing the suspect in vehicles, which were allegedly shot at several times by the suspect.
The suspect allegedly turned around and shot at the officers as they got out of the vehicles. The suspect continued firing as he then ran toward a fenced area, but was shot multiple times by police, according to St. Louis County Police Chief Jon Belmar. The man is in critical, unstable condition in a local hospital and is undergoing surgery.
The four officers involved in the shooting have been placed on administrative leave.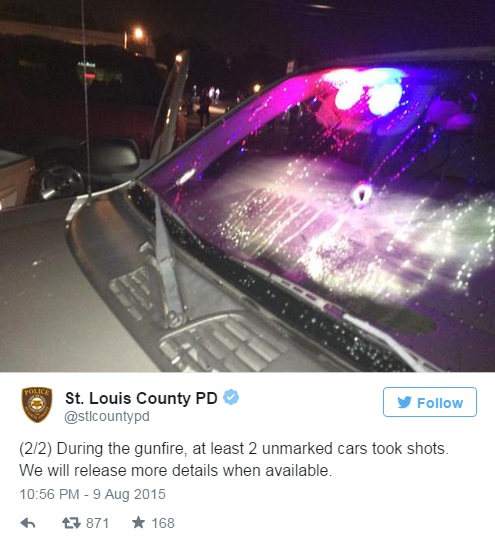 As night drew, the police presence in Ferguson increased and rumors about the shooting grew. Protesters and police were involved in a tense standoff in the location where Brown was shot, West Florissant Avenue.
According to police, several businesses were damaged by protesters and at least three officers were injured.
"There is a small group of people who are intent on making sure we don't have peace. That's unfortunate," Belmar added. "We can't afford to have this kind of violence."
Brown, 18, was shot last August by police officer Darren Wilson, who in November avoided indictment on charges related to Brown's death by arguing self-defense, which prompted violent protests in Ferguson.