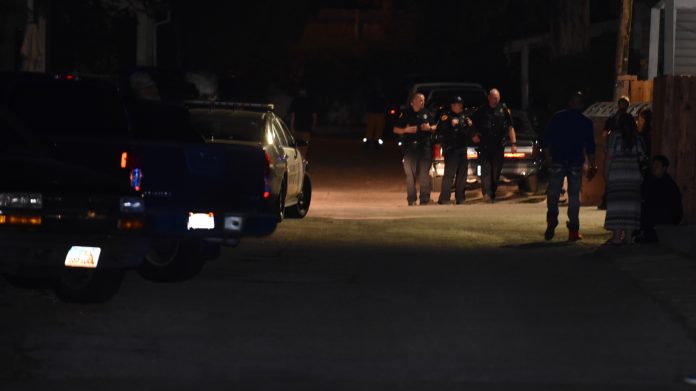 SALT LAKE CITY, Utah, June 4, 2019 (Gephardt Daily) — Police responded to the area of 680 East and 200 South late Tuesday night after receiving a call of shots fired in the neighborhood.
"We had information that an AR-15 was involved, and someone may have been shot in the leg," Salt Lake City Police Sgt. Richard Chipping said on scene.
Multiple officers responded and quickly set up a containment perimeter.
"We pulled out people, evacuated the surrounding houses, then we pulled out the occupants from the involved location and searched the premises," Chipping said. "We didn't find any suspects inside."
He said police did find a bullet hole, but no weapon has yet been located, and there were no reports of any injuries.
Chipping said the incident, which occurred sometime around 9:30 p.m., apparently began with "some sort of altercation." Officers were still gathering details two hours later.
"The investigation is ongoing. We're still working on information we've received, and we're interviewing quite a few people at this point," he said.
Explaining the large police presence on scene, Chipping said, "You never know what you're getting into, and information that we get, you can't trust it too far. You have to verify once you get on scene, so we treat it very seriously. We have a lot of people come out with rifles and make sure everybody's safe."
Once the area had been searched and police were sure there was no threat to the community, everyone who had been evacuated was allowed to return to their homes and apartments.