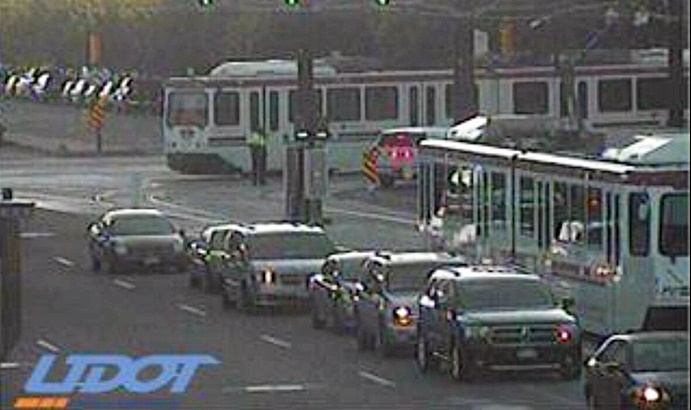 SALT LAKE CITY, Utah, July  19, 2019 (Gephardt Daily) — A TRAX train derailed at Main Street and 400 South in downtown Salt Lake City at about 6 p.m. Friday, and Utah Transit Authority officials are working to find out why.
In the meantime, UTA is setting up bus bridges to get commuters to their destinations.
"It's a critical location for us," UTA spokesman Carl Arky told Gephardt Daily. "It's where the blue line and red line come together."
Arky said he understands about 30,000 people are at the Young Living convention Friday night at the Salt Palace, and UTA got a lot of those people to that event.
"If this (derailment) had happened an hour earlier, it would've been much worse. But we're sorry it happened at all, and we apologize to everyone for the inconvenience."
He added that no one was injured, and there was no contact with any vehicles.
Arky said the four-car train came off the track in an area where UTA had done construction work just a couple of months ago, but officials have no idea if that had anything to do with the derailment.
"They'll be getting the train back onto the track and bringing it in, and they'll be checking to see if the problem was with the train or the track," he said.
He couldn't estimate how long that section of the lines would be closed, but "it won't open up until it's safe to do so."
He advised anyone planning to use TRAX on Friday night to keep an eye on UTA's Twitter feed and Facebook page for updates on the situation.