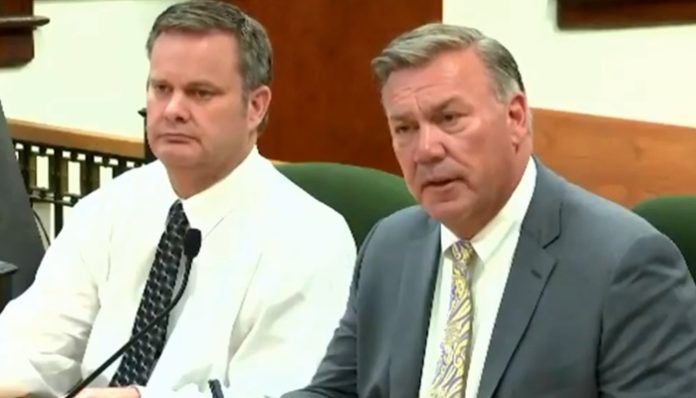 FREMONT COUNTY, Idaho, Aug. 4, 2020 (East Idaho News/Gephardt Daily) — Chad Daybell's case will advance to District Court after a two-day preliminary hearing Monday and Tuesday, a judge announced.
Judge Faren Eddins said Tuesday afternoon that after reviewing all of the testimony, exhibits and arguments, Madison County Prosecuting Attorney Rob Wood has met its burden of probable cause, according to East Idaho News. Eddins said there is probable or sufficient cause that Daybell committed the crimes he's accused of. Daybell's case is now bound over to District Court and he will go before Judge Steven Boyce on Aug. 21 for an arraignment.
Daybell is charged with two felony counts of conspiracy to commit destruction, alteration or concealment of evidence, and two felony counts of destruction, alteration or concealment of evidence.
Daybell was arrested June 9 after the remains of Joshua "J.J." Vallow, 7, and Tylee Ryan, 16, were found buried on his property.
His wife, Lori Vallow Daybell, is scheduled for a preliminary hearing in Fremont County Monday, Aug. 10 on two felony charges of conspiracy to commit destruction, alteration or concealment of evidence.
On Monday, Rexburg Police detectives, the Brigham Young University-Idaho Student Dean and Melanie Gibb, a close friend, offered testimony.
The second day of preliminary hearings began at 9 a.m. in the Fremont County Courthouse.
Among those who took the stand Tuesday was Madison County Sheriff's Office Lt. Jared Willmore. Willmore has worked 17 years for the MCSO and he is the lieutenant over the jail. He oversees the Telmate phone system that allows inmates to speak with their family members.
Willmore said he accessed calls made by Lori Vallow Daybell for the prosecutor's office and he listened to the calls. Willmore spoke about a phone call made by Lori Vallow to Chad Daybell on June 9 around 11 a.m. This was the same day police were at Daybell's house. The call was recorded as police were searching Daybell's property and the remains of the children were found.
On the recording, Daybell said to Vallow Daybell, "They're searching the property." Vallow Daybell said, "The house right now?" He said yes, and then said, "Mark Means will be talking to you." Means is her attorney.
Daybell said they are "out on the property" and Vallow Daybell asked if they were seizing stuff. Daybell said officials were searching and had a warrant. Daybell said  "we'll see what transpires" and Vallow Daybell asked her husband what she could do for him. Daybell responded, "I'm feeling pretty calm. I would call Mark (her attorney) though and talk with him." Daybell said he spoke with Mark and then said, "I love you so much."
She asked Chad if she should try to call him later and he said, "I don't know." Chad said, "I love you and we'll talk soon." Lori said, "I love you baby" and the call ends.
Later Tuesday morning, FBI Special Agent Steve Daniels was called as a witness. Daniels is a senior team leader for the Evidence Response Team out of Salt Lake City. He has worked for the FBI for approximately 23 years.
Daniels described how during the search of the Daybell property June 9, a black plastic garbage bag was uncovered. He said he removed dirt around the oval-shaped object and the plastic bag was tightly wrapped against "the shape." Daniels said it felt like the shape of a skull and he took a razor blade and made a cut in the black plastic.
A white plastic bag was underneath the black plastic bag, Daniels said. He made a cut with a razor blade into the white bag and that's when "the possible human hair" started coming out on his hands. At that point, Daniels determined it was human remains. The team continued the excavation of the grave and eventually, the entire body was uncovered that was wrapped in this black plastic bag with "a lot of duct tape intermingled."
Daniels said the excavation resumed the next day, June 10. Daniels said a "mass of dismembered human remains" were found. They were partially burned and Daniels said it was initially hard to recognize what his team was dealing with. At the bottom of the mass, crews found a melted green bucket and to the side of a bucket was a skull. To the side of the skull, the team found a jawbone with teeth. The team tried to lift the remains out of the burial site but the mass fell apart. All the pieces were placed in a body bag and the anthropologist and coroner did an "inventory" of the pieces they had.