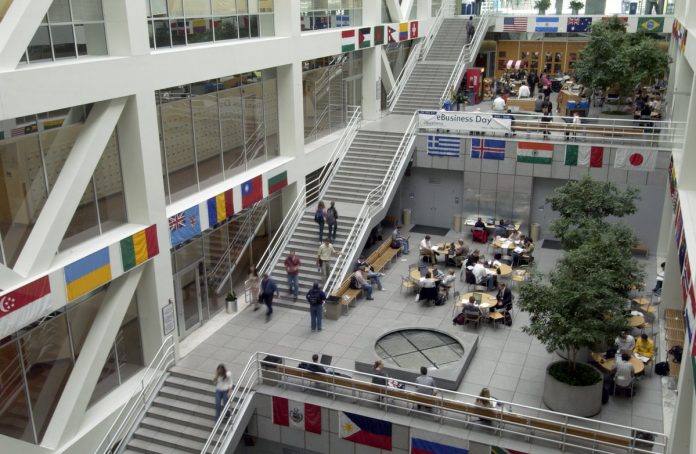 PROVO, Utah, Dec. 5, 2018 (Gephardt Daily) — Brigham Young University officials said Wednesday that a student left in critical condition after she fell from the fourth floor of the Tanner Building Monday morning has died.
BYU officials confirmed the 19-year-old student passed away at the hospital, but did not release further details.
Officials said Monday afternoon that the incident was a suicide attempt. The student's identity has not been released.
The incident occurred at approximately 9 a.m. inside the Tanner Building, part of the J. Willard and Alice S. Marriott School of Business, officials said.
The woman was initially transported to Utah Valley Hospital in critical condition.
BYU tweeted later Monday: "The police have determined that today's tragic incident in the Tanner Building involving one of our students was an attempted suicide. Our prayers are with all who have been impacted. Please know that help is available."
Several people witnessed the fall, police said.
University President Kevin J. Worthen shared the following message with students and on Twitter Tuesday:
"I would like to express my personal sympathy for all those impacted by the tragic incident involving one of our students yesterday. Our prayers go out on behalf of all affected, especially our student and their family… Such events try our hearts and stretch our souls. They should also cause us to be more aware of, and more caring for, the well-being of every individual in our community. In such situations, the 'good tidings of great joy' which an angel announced outside Bethlehem more than two thousand years ago are more relevant than ever. We are blessed today to hear a message of that joy from an apostle of the Lord Jesus Christ. I plead with you to pay attention to the words he speaks and the thoughts and feelings you experience and then act on those promptings. You and others will be blessed if you do."
BYU tweeted: "For BYU students, please reach out to Counseling and Psychological Services, 1500 Wilkinson Student Center. Students can receive walk-in/crisis consultation during regular business hours Tuesday and Wednesday, 8 a.m. to 5 p.m."
After hours, students can call campus police and ask to speak with the on-call counselor, a follow-up tweet added. Also available locally is the Utah County Crisis Line at 801-691-5433. The National Suicide Prevention Lifeline can be reached at 1-800-273-TALK.
A GoFundMe page was set up by the BYU Community to assist with hospital bills and funeral services for the deceased woman.
"Our hearts go out to those affected," the page said. "While we know that no amount of money can undo the trauma being experienced by our community and those close to this young woman, it is our hope that these funds will in some way help ease the financial burdens that have been incurred."
Gephardt Daily does not usually report on suicides or suicide attempts unless they occur in public places or otherwise impact a community.
We will have more on this developing story as information is made available.